The digital era has completely changed how businesses operate, workers collaborate, and people communicate. Even standard telephones are making a comeback with new functionalities that suit the needs of a digitalized market.
Business phone systems have become essential tools for companies of every size. These used to consist of several wires and hardware and were costly for small businesses. 
However, phone systems with telephone connections for call transfer, handling, and voicemails are currently available. These systems can operate through the Internet and are more cost-efficient. They also make communication easier, enabling you to interact remotely with your customers and staff. 
With that in mind, here's a small business guide to setting up a phone system.
How To Set Up A Phone System For Your Small Business
Setting up a small business phone system is straightforward. You don't need to wait for a technician to set it up. In fact, you can save time and money by doing it by yourself. Below are the steps for setting one up successfully:
Select The Appropriate Phone System
The first step to selecting the appropriate phone system for your small business is to get an insight into the options available. Here are some of the common ones:
IP PBX:

This system controls communication via an Internet connection. You can host the server on-site or via a remote server.

Conventional on-Premise PBX:

Unlike the previous system, traditional PBX systems operate via phone lines. The actual communication happens on primary conventional phones. In this setup, the communication server has to be located within your business premises. This can be inconvenient as it lacks flexibility.

Virtual Voice Over Internet Protocol (VoIP) system:

You won't require any hardware in this phone system. It controls communication through your provider's app or a browser on your computer. This means that you don't need a traditional phone but only a strong Internet connection to support the calls.
 Before settling on a particular system, you must make certain choices about how you aim to use it. Here are some tips you may consider:
Determine the number of calls you'll handle:

If you receive numerous calls, you need a more stable system.

Come up with a budget:

Budgeting is one of the most vital considerations, as every option comes with unique initial costs and ongoing prices. Select a system you can afford and pay subsequent fees without straining your company's funds.

 

Evaluate the setup you're currently using:

If you have an existing one and want to upgrade, go for systems that provide a seamless transition.
In addition to helping you choose a phone system, these tips may enable you to define your objectives in leveraging this for your future prospects. Consider working with companies like Drop Cowboy to learn more about your options.
Generate A Voicemail Greeting
Creating professional voicemail greetings is essential to the success of your business. When you can't respond to business calls, you can send friendly messages informing your customers that you'll be back shortly. 
Voicemail presentation actually has a significant impact on how prospects view your brand. It sets the tone for all your conversations and is usually a client's first contact with your company. For this reason, you should make sure to create excellent voicemails. 
The appropriate voicemail greeting enables you to develop good relationships with your customers. It can also help you to be on top of all customer interactions, stay organized, and present a professional look.
You may set up your voicemail greeting by recording your audio or uploading an existing file. You can also use text-to-speech to turn a voicemail script into a professional voiceover. 
If you want to keep your communications as discreet as possible, you have the option of using ringless voicemail to avoid disturbing them. With this, your clients can listen to your voicemail in their free time. You can learn more about ringless voicemail in this video:
Pick Your Business Phone Features
Phone systems offer a wide range of features. It's your role to determine which ones best suit your needs.
For instance, you may require conference calls, mobile applications if you're working remotely, or an auto-call router if you plan to receive numerous calls. Other options you can consider are:
Call restrictions

Simultaneous ringing

Call monitoring

Fax to mail

Call queues

Personalized greetings

Call recording

Unlimited extensions

Call handling 

Document sharing
Before you start choosing system vendors, ensure you have a list of all the features that are beneficial to your company. This should help you pick the appropriate one.  
After choosing your phone system and the features it comes with, you may get to work on activating your account. This process requires you to provide your contact and payment information.
You may also select a business phone number during this procedure. Some platforms allow you to do so immediately after signing up. You can select a local number or port your current number.
Determine Your Business Hours
Setting up business hours on your phone system lets you limit when your organization can take calls. For instance, you may decide not to work on holidays or during lunch hours. In this case, you can create a voicemail that plays whenever a customer calls you during off-hours. If you do this, you should also let your customers know when you'll be back using voice mail.  
A phone system enables you to have multiple lines of communication. You can achieve this by inviting your employees through emails; all they have to do is accept your invitation and download your supplier's app on their devices. This enables your workers to work anywhere at any time. 
Every time you invite a new employee to your system, you can assign them a new or shared number. The latter enables them to collaborate, making it a more preferable option.
Check Your Existing Internet Speed
After knowing the number of users you have, you must check if your existing internet connection can support your user volume. You wouldn't want to activate a phone system account only to realize later that it can't keep up. 
Ensure your bandwidth can manage both incoming and outgoing calls. If your connection is poor, the quality of your calls will also be poor, endangering customer experience. 
You can confirm that your internet connection is fast and reliable by testing the strength and speed of your connection with a particular number of lines. 
A business phone system gives you a good grasp of your clients, employees, and your organization as a whole. By activating call recording, you get to:
Save detailed records:

Recording and saving calls can benefit your company. It enables you to refer to previous conversations and know your customers more personally. In turn, this lets you tailor services to their needs. Contented clients are more likely to refer you to other people that require the goods and services you offer. 

Retrieve missed information:

Sometimes, you may receive a customer's call in a noisy place or be too tired to answer your client appropriately. This may result in a misunderstanding between you and your customer. Your client may also be unsatisfied with the solution you offer. In such cases, you may listen to the recorded call when you're at a more convenient and call back your customer to properly address their concerns.

Determine problem areas:

Recording your employee's lets you know how they communicate with customers. It gives you an insight into their approach to serving them. This enables you to identify problems that may get in the way of building positive and productive client relationships. From there, you can train them in effective communication skills.

Constantly better your services:

Call recordings to enable you to gauge the satisfaction level of your customers. You can easily trace the strengths and weaknesses of your support team and sales reps and pinpoint the key areas for improvement.
You may get an auto-recording option to ensure all calls are recorded. There will be times when people forget to press the record button before the calls start.       
Include Call Routing Options
Call routing plays a key role in the performance of your team members. It prevents your employees from being overpowered by the numerous calls they receive at once. 
Ideally, call routing balances calls between agents by distributing or directing inbound calls to the appropriate people. It can put customers in a queue, send the call to voicemail, or play an audio message.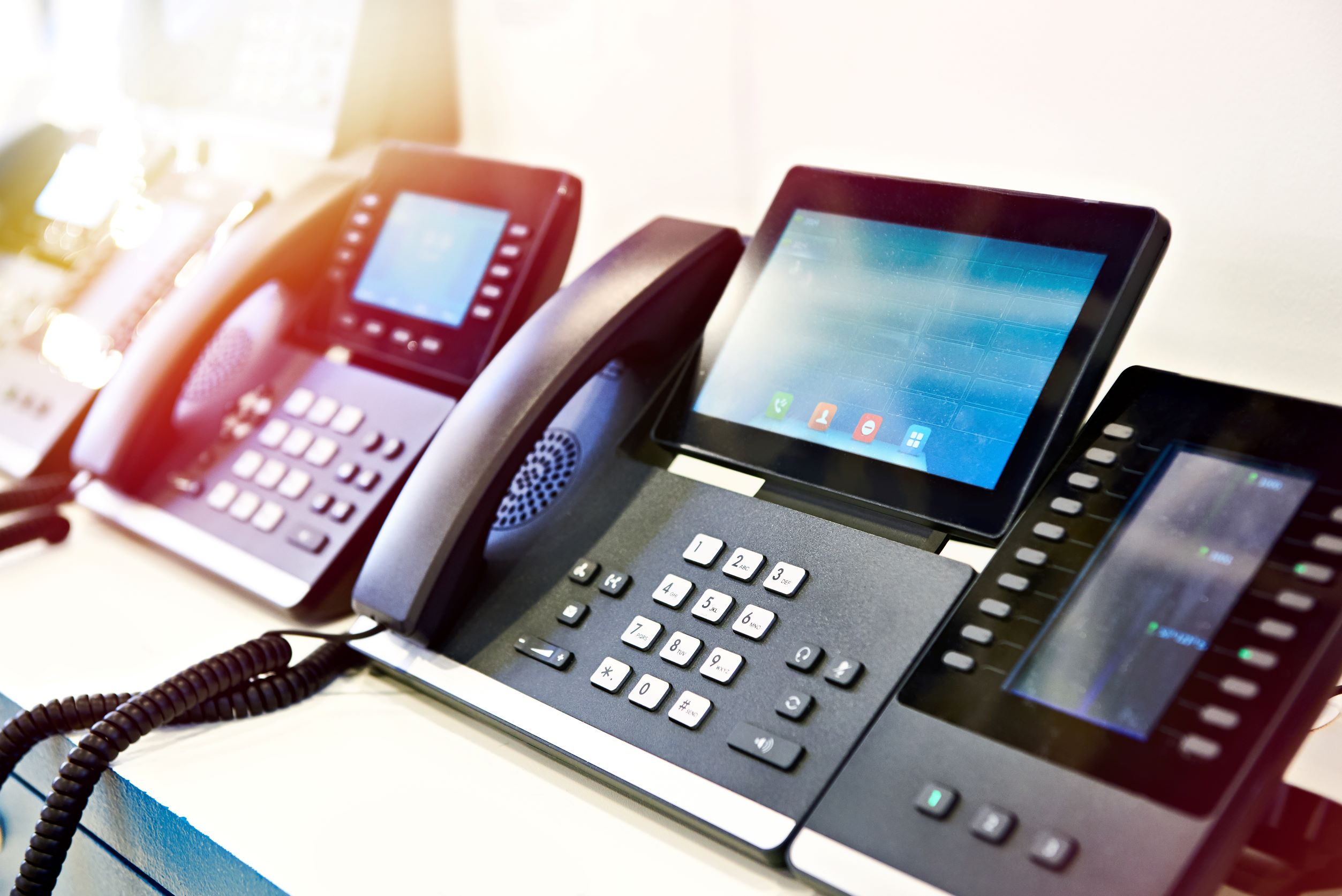 Importance Of Setting Up A Phone System In Your Business
Communication is a critical element for the success of any business. Your team members require a simple way of getting in touch with clients, reaching potential customers, and carrying out their usual duties. 
One of the most crucial benefits of installing a phone system in your small business is allowing all your employees to share similar voice resources. This enables your workers to transfer calls to one another, making your business run seamlessly. 
Below are other advantages of a phone system in an organization:
 

It Minimizes Pressure On You And Your Employees
The best business call systems offer call routing, which lets you and your workers attend to your customers' needs from any location and at any time. This also helps in lowering work-related pressure.
Additionally, the queue or auto-attendant feature enables you to serve one customer at a time, minimizing errors that may result from time-crunching.  
It Enables You To Stay Connected From Any Location And At Anytime
For you to outshine your competitors nowadays, you must devise ways of staying connected even when you're out of the office. Installing a phone system in your business enables you and your employees to do just that.
It provides continuous access to your company's system via tablets, mobile phones, or laptops. This offers you greater flexibility in collaborating and exchanging feedback while on the go.  
A business phone system streamlines your company's workflow by providing a new platform that boosts communication. Poor communication can strain you and your employees, especially if it interrupts their responsibilities.
A phone system addresses this problem by simplifying the way you exchange information, allowing you and your team members to concentrate on your jobs. 
It Boosts Your Company's Image
One of the advantages of a phone system is that it gives your company a professional look. This is particularly important if you have numerous tasks with limited resources.
You can quickly and effortlessly forward call to the appropriate workers, set auto attendants, and utilize call notifications and voicemails to stay on track with your client's demands.
Another great feature of these systems is that you can flip calls from one device to another. This makes you look proficient in front of your clientele and partners. After all, today's customers require rapid communication with effective solutions to their concerns.
Phone systems offer you various communications options to meet these demands, including live chat, conference calls, and a contact form. This allows you to offer superior customer service, an advantage that adds value to your expanding business.      
It Enables You To Offer Superb Customer Service
Providing outstanding customer service is essential for the growth and success of your business. It enables you to attract new customers, retain existing ones, and generate referrals.
The phone system helps you achieve this by offering customer-centered strategies. You can respond to your client's needs from any location. 
In addition, a phone system provides directions to your employees on who should answer specific client questions if it's beyond their scope of work.
It has a presence status feature that makes finding the appropriate person much easier. This ensures customers talk to the people who can actually provide what they need. 
Undoubtedly, communication costs can be high. It's a good thing business phone systems help lower these costs. These decreases are due to internet interactions, which differ from conventional phone calls that charge you per minute.
Additionally, phone systems eliminate the need to obtain new hardware for every new worker, enabling you to cut back on spending.      
It Grows With Your Clients
The best part of installing a phone system is its scalability. At some point, your business will grow. This means the number of calls, messages, and inquiries you receive will also increase.
Your old communication system may only accommodate some of these. Fortunately, phone systems grow with your organization thanks to their minimal operational requirements. You can still communicate effectively with your employees and customers no matter how big you grow.
Conclusion
Business phone systems offer numerous benefits to the success of your business. They enable you to offer superior customer service, streamline workflow, and improve your company's image.
However, before setting up the system in your organization, you must know how to best utilize them. This guide should help you set up your system properly for your small business's goals. Start looking for the right phone system partner today.