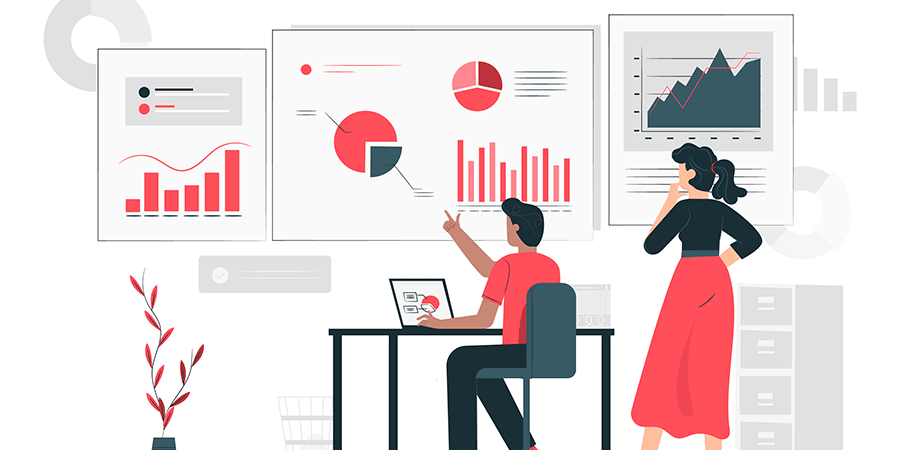 2020 almost pushed every single industry of economy to the roads of digitalization. In fact, there has been no turning back since, and today businesses are constantly working to provide consumers with the most up-to-date technology. 
In this context, the big challenge lies with the small businesses, who, after limiting themselves to digitalization, have to now integrate with the frequent technological upgrades. 
Besides pandemic, outdated infrastructure, security concerns, and an increase in IT projects have contributed to the growing importance of technology upgrades for small businesses.
The pace of change is fast, yet small businesses need to adapt to stay competitive.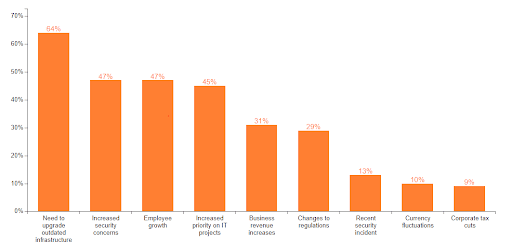 Credits
"Spiceworks Data showing factors that lead to IT budget expansion in small business technology."
Top Small Business Technology Upgrades That Will See A Tremendous Surge In 2022 Are:
Table of Contents:
Growing Remote Working Management Software Needs

Automation of Accounting Software

More Stringent Cybersecurity

Enhanced Predictive Analytical Tools

Right Digital Marketing Strategies 

AI: The New Small Business Technology Companion 
1. Growing Remote Working Management Software Need
The shift to remote work is no new norm these days- Businesses have already switched to work from home set up to carry out their operations.
In such situations, remote working software can help in data sharing, screen recordings, meetings, conference calls, group chats, and many more normal working tasks.
Based on Remote Buffer survey results:
"95.3% of workers who started working remotely because of COVID-19 said they would recommend remote work, and the number jumped to 98.3% of workers who were remote before COVID-19 said the same."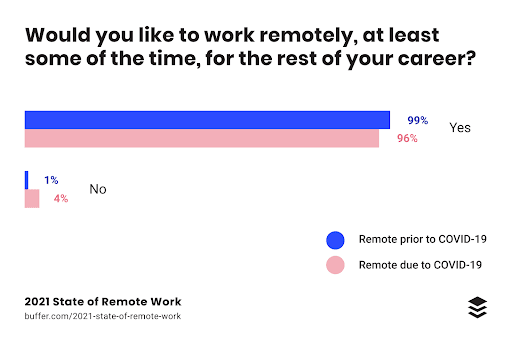 Credits
Looking at the figures, we can clearly presume that remote working is nowhere near its end and will continue to prevail for the rest of the foreseeable future. 
The use of the remote management software can help you:
Multiple parties can access and edit online checklists

Live updates to schedules

Systematically alerting employees to changes and new priorities

Questions and concerns can be raised privately through private channels

Screen sharing and video calling made easier
Besides this, there is a significant sharp rise in the number of remote tools and software by the B2B tech buyers.
It can be seen by a survey conducted by Trust Radius that shows how tech buyers are investing extensively in remote management software.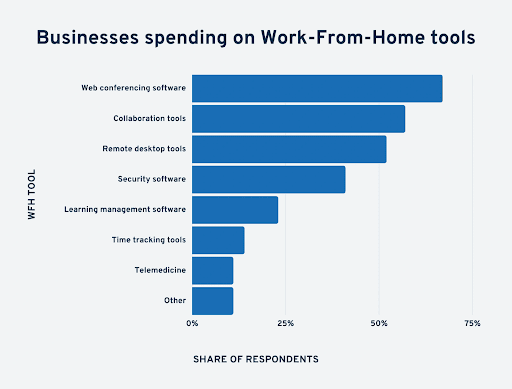 Credits
In light of this, small business technology trends have shifted or already have; in favor of investing in tools for remote working management.
This technological upgrade will stay active in CY 2022 and for many years beyond it.
2. Automation of Accounting Software
The advancements in technology have drastically changed the way businesses earlier operate their accounting functions.
Now, automation is the new way of almost everything related to accounting.
It reduces the cost burden and avoids repetitive tasks with swift automation. 
More automation is brought into the accounting software with technologies including cloud hosting of the applications.
When you choose to host your accounting software on the virtual setup with a reliable cloud hosting provider, you leverage your small business productivity and efficiency. 
With the cloud, you can harness the power of your small business accounting software and achieve a far more superior automation process with features like real-time updates, security, unlimited data resources, and many more.
3. More Stringent Cybersecurity
Cybercrime has almost taken over every aspect of the digital world. Every day we come across cases where cyberattackers steal business data by using malicious practices of the data breach.
So, businesses must have to keep their eye on the cybersecurity trends ramping around the world.
Small businesses are the most prime suspects of cyber attackers due to poor data security setups.
Recently, a number of companies have been targeted and incurred heavy data and money loss due to which they had to strengthen their cybersecurity practices. 
Credits
Businesses are vulnerable to cybercrime in more ways than one, so making sure your cybersecurity is strong is imperative.
Small businesses can benefit from cybersecurity training for their employees in addition to installing antivirus software, a VPN, and a firewall.
4. Enhanced Predictive Analytical Tools
The Market and Market reports highlighted how the use of analytical tools, especially predictive analytics tools, the market will grow from USD 10.5 billion in 2021 to USD 28.1 billion by 2026 at a 27% compound annual growth rate.
With such an increased number, there is a sharp rise in the adoption of predictive analysis software by businesses.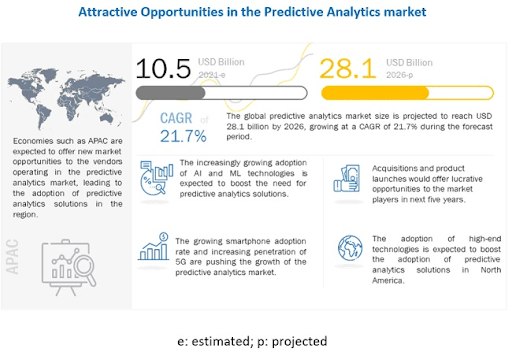 Credits
An excellent example is strategic initiative management software, which helps companies predict whether their initiatives will finish on time, within budget, and if they're affecting the targeted KPIs as projected. This insight helps companies evaluate their performance and adjust the implemented strategies based on the predicted outcome.
Small businesses who have previously done these tech upgrades in their small business technology software heavily benefited in terms of:
Better Strategic Decisions

Avoid Errors and Repetitions

Forecast Future Trends

Business Key Analytics

Automation of Manual Tasks
For Instance- Google Analytics is one such example of how you can monitor the business performance online. 
For online small businesses, it's worth investing in this tech upgrade in 2022.
5. Right Digital Marketing Strategies 
Digital marketing can go either way- worst or excellent. It is purely dependent on the kind of digital marketing strategy you are going to select.
All your entire money can go in vain if your adopted strategy isn't right hence choosing the digital marketing apt for your business is essential. 
Effective digital marketing and campaigns can boost your business sales and profits to the next level. One such example is today's social media platform which is the most engaging way to attract your customers.
So, small businesses that have switched to digital marketing technological upgrades are making good figures, given they have used the right tools and strategies.
6. AI: The New Small Business Technology Companion 
The power of AI or artificial intelligence can really upgrade your existing small business technology customs. Rather than focusing on manual work, AI can smooth out your entire business operations with quick automation.
Small businesses can achieve many things with AI:
Greater efficiency 

Avoid repetitive tasks

Few errors and manual tasks

Increased profits and sales
For Instance: 
The use of Chatbot heavily by the small business to respond to their client's booking, queries and clearing any doubt has almost eliminated the need for constant live support by them.
AI has prevailed in 2021 and is likely to continue so in 2022 with many new small players taking their part in this technological revolution.
Looking Ahead!
As the year progresses, the pace of technology development will be similar to that of 2021, but the effect of Covid-19 will grow.
Investing in the right small business technology trends in 2022 can leverage the business growth and sales with drastic figures.
The companies that have prospered in 2021 are already taking steps to improve customer relationships and experience- and are investing in increasing customer focus.
The small business technology trends, however, at last, will always be customer-centered, although nothing can be predicted.
We hope by reading this blog on the top six small business technology trends will make you aware of the developments and progress that will take place in technology for the coming years.