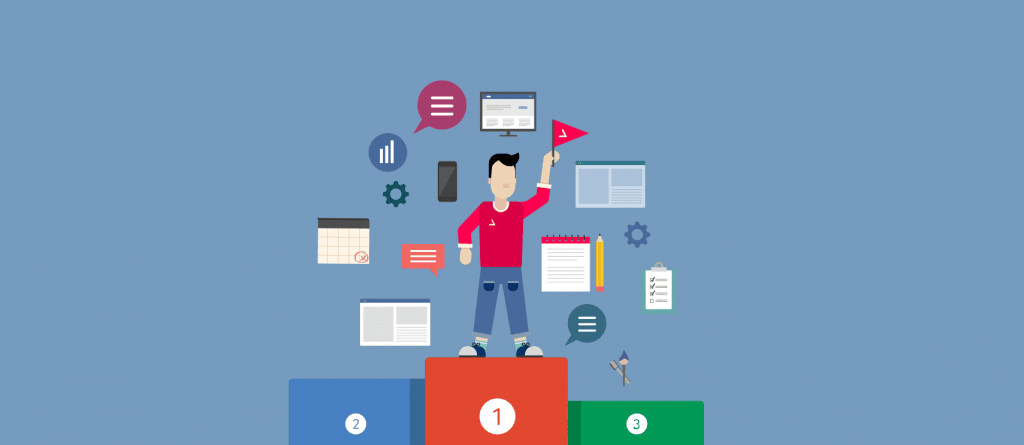 To attract and keep clients, businesses must negotiate a cluttered online market. With so many
companies fighting for attention, it's critical to have a great digital marketing plan to stand out.
However, it's not only about developing a plan; it's also about keeping it afloat in the ever-changing digital marketing landscape.
This article will look at practical ways to keep your digital marketing plan fresh, effective, and adaptive.
We'll discuss crucial strategies to keep your digital marketing efforts afloat in the congested online sea. For immediate help, the best thing to do is to connect with 
Digital Marketing And Its Importance For Businesses Today
Digital marketing is the promotion of goods and services. It means using digital channels to promote your business or brand. It is a data-driven strategy that allows firms to communicate with their target audience across multiple digital channels.
Unlike conventional marketing, digital marketing allows firms to measure and assess the efficacy of their marketing initiatives in real-time, enabling them to make required modifications and improve their strategy.
Today, the value of digital marketing for firms cannot be emphasized. Businesses that do not have a sound digital marketing plan risk slipping behind their competition as a growing number of customers resort to digital channels for information and sales.
Digital marketing allows firms to contact their target audience, increase brand recognition, and drive conversions cost-effectively and efficiently.
Implement These Seven Strategies To Ensure Your Digital Business Stays Afloat
Here are seven ideas for keeping your digital company afloat:
Identify the right target audience
Identifying your target demographic is the first step in any effective digital marketing strategy. Who do you want your message to reach? What are their desires and needs? After you understand who they are, you can adapt your content and marketing efforts to appeal to your target audience.
For example, if you're offering a product for women, you'll want to ensure that your website and marketing materials are also geared toward women. You can also wish to utilize female-oriented social media networks such as Pinterest and Instagram.
Make your business website mobile-friendly
People are increasingly adopting smartphones and tablets to access the internet. It is predicted that by 2023, mobile devices will account for more than half of all online traffic. That is why ensuring your company's website is mobile-friendly is critical.
A mobile-friendly website is built to be easily read and navigated on a mobile device. You can make your website mobile-friendly by doing a few things. To begin, ensure that your website runs swiftly on mobile devices.
Second, employ responsive design, which means that your website's layout will automatically alter to match the screen size of the device on which it is being viewed. Finally, ensure that the material on your website is simple to read and navigate on a mobile device.
Don't forget social media marketing
Social media can help you reach your target audience and promote your brand. Social media platforms such as Facebook, Twitter, and LinkedIn enable you to engage with prospective consumers, distribute your content, and generate traffic to your website.
To maximize the effectiveness of social media marketing, you must generate compelling material that your target audience will want to read, share, and comment on. You should also upload fresh material frequently and communicate with your audience.
Visual over text, always
People are more likely to be lured to visual material than words in today's digital era. That is why visuals, such as photographs, films, and infographics, should be used in your marketing materials.
Visuals can help you catch attention, effectively express your point, and make your material more interesting.
For example, you might incorporate a picture or video to break up the text and make your information more aesthetically engaging when writing a blog article.
Use the power of Google display ads
Google Show Ads is a sort of internet advertising that enables you to show your advertisements on websites relevant to your target demographic. Your ad will appear in the sidebar or at the top of the page when someone visits one of these websites.
Google Display Ads is an excellent approach to reaching many individuals already interested in your product or service. They're also relatively cheap to operate.
To maximize your online advertising success, Brisbane's premier Google Ads solutions provide expert strategies and optimized campaigns. As a Google Ads expert, they can help you target the right audience, optimize your campaigns for maximum performance, and drive qualified traffic.
Use content to show authority and authenticity
People are inundated with information from all sides in today's digital world. That is why developing content that demonstrates your authority and credibility is critical.
One method is to produce high-quality, educational, and helpful information. You can also share personal anecdotes and experiences to help others connect with you more intimately.
Continuously review and refine
No marketing approach is flawless. That is why it is critical to assess and improve your work constantly. You can alter your plan by discovering more about your target audience and what works for them.
Final words
Companies must adopt efficient digital marketing techniques to survive today's saturated digital market.
Businesses can successfully engage with their audience, drive conversions, and succeed in the digital world by identifying the right target audience, creating mobile-friendly websites, leveraging social media, using visual content, utilizing Google Display Ads, showcasing expertise through content marketing, and continuously reviewing and refining strategies.
Maintaining a dominant position in their field and expanding their online presence need firms to keep up with the latest developments in digital marketing.