No one can deny the fact that Search engine optimization (SEO) is the crucial aspect of digital marketing. An important part of SEO involves ranking websites higher on the Search engine results page (SERP) for target keywords.
Thereby aiming to get website traffic quickly. If you are one of those SEO professionals striving hard to optimize the website for organic search, then it becomes very much essential to track keyword rankings.
Keyword tracking includes many benefits for SEO. Apart from helping you monitor the site performance in SERP, it will help you in identifying your SEO methods that really work for you and that don't.
Also, it helps in determining drop in rankings, provides you a competitive advantage, and many more.
I hope you are now clear with the importance of tracking keyword rankings to boost your SEO progress. But, a question will cross your mind now.
How to track rankings effectively without any troubles? Tracking rankings manually will be for sure a tedious task especially when you are looking to track rankings for your multiple keywords.
Therefore, going for a keyword rank checker will be the best option to be on track with your rankings and to take further actionable steps to enhance your SEO progress. For that, you should first know
What is a Rank Tracker?
A rank tracker is an SEO tool that can give you all essential insights on keyword rankings. Therefore, optimizing the website for SEO will never be a tough job when you make use of a reliable Keyword Rank Checker.
Before utilizing a rank tracker for your SEO needs, you need to get acquainted with some popular keyword rank checkers that are available in the market. Let's delve into that now
Some top-notch keyword rank checkers with outstanding performance
SERPPLE
SERPPLE is one of the most well-known, free keyword rank checkers available that provides accurate keyword rank tracking details.
customized ranking reports for staying current with the changes in the ranking positions on SERP, location-based rank tracking data, mobile ranking information, competitor insights, bulk addition of keywords for tracking, ads detail, review, feature snippet, knowledge graph data, site link result, Twitter pack result, image pack result, video pack result, related question result, result with news pack, local pack result, Map pack result, and so on.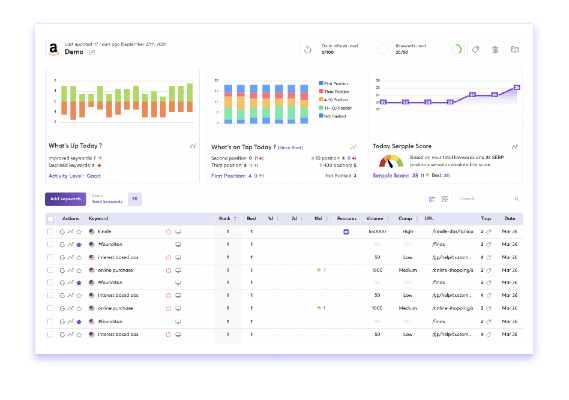 The tool is in the development phase and many more interesting, innovative inclusions are in progress.
Therefore, deciding on your SEO tactics to improve your rankings will never be a tough job with the precise ranking information from SERPPLE
Semrush
It is the best keyword rank checker that will help you in tracking the position of any keyword easily and paves the way for understanding and analyzing the strategies of the competitors.
So, it is a perfect tool for small and medium-sized businesses with certain key features like advertising research, organic research, traffic analytics, etc.
But, this tool is a little bit expensive for the advanced functionalities and has also been known to deliver inaccurate details regarding ads and backlinks. The tool is also a little complicated for amateurs.
AccuRanker
AccuRanker is a remarkable rank tracker that allows position tracking for up to 100,000 keywords and provides useful insights for the keywords.
The tool allows the users to compare their keyword rankings with their competitors. Some notable features of this tool are daily rank checks, user-friendly interface, unlimited users, etc.
But, the limitation of this rank tracker is that it allows rank tracking for only a limited number of keywords and its price is relatively quite higher.
The tool specializes only in rank checking and so if you are looking for an all-inclusive SEO tool, then AccuRanker is not the right tool for you.
Ahrefs
This tool serves as an ideal keyword rank checker with several functions such as URL ranking, organic search reports, competitive analysis, backlink audits, keyword research, and so on.
But, the main drawback of the tool is its expensive pricing for tracking keyword rankings.
Moz
Moz is considered by many as the best rank tracker for tracking keyword rankings, for keyword research, backlink analysis, industry-standard metrics, page optimization suggestions, and many more.
So, using this tool you can boost your website traffic and rank higher on SERP.
But, this SEO tool will not examine many keywords.
Seoability
It is a well-known keyword rank checker that enables users to monitor their website performance effectively and begin SEO activities to increase their keyword rankings.
It includes various striking features such as daily rank updates, local search results, email reporting, competitor comparison, and so on. But, this rank tracker can be a bit confusing for new users.
ProRank Tracker
It is the tool specifically developed for tracking and examining keyword rankings, allows users to look through the data for insights, includes automated daily updates, local tracking options, notifications to inform users with important ranking changes, and so on.
But, this tool does not support anything other than rank checking and so if you are looking for a comprehensive SEO tool for supporting all of your optimization activities, then this tool will not be the right choice for you.
Authority Labs
This is another great keyword rank checker with a user-friendly interface. The tool allows users to set up many sites and enhance SEO campaigns.
It also paves the way for location-based rank tracking, helps in tracking SEO campaigns placed by competitors, supports daily reporting, compares desktop ranking with mobile results, and so on.
But, this rank tracker is expensive for using advanced features.
WooRank
WooRank is deemed to be simple to use and a perfect tool for tracking keywords and exploring competitor keywords rankings. The tool will also help you in fixing security issues, site errors, and getting rid of any duplicate content.
But, the tool is a bit expensive and not greatly recommended by many.
Advanced Web Ranking
It is a robust rank-checking tool that includes many useful features and functionalities. It provides accurate and comprehensive keyword rankings and also allows tracking of location-specific rankings.
compares the performance of the website with that of competitors, daily ranking updates, and many other interesting options.
The main limitation of the tool is that it supports only limited tracking of keyword rankings and the tool is not suitable for non-professional users.
Final Thoughts
The above-mentioned are some popular rank tracking tools available in the market. I hope you are also now clear with the pros and cons of these rank trackers.
So, you would have now made up your mind to look for beneficial features such as affordability, ease of use, etc, and pick a felicitous Rank Tracker to boost your SEO activities.
Considering everything, on the whole, we suggest you make use of an ideal and user-friendly keyword rank checker that is available at the best price and incorporates best-in-class features for a complete keyword rank tracking process.
So, utilize a rank checker that best fits your SEO requirements and snatch the chance to rank higher on SERP. Good luck with your fruitful venture in SEO!
AUTHOR BIO:
Richard Fernando is a content marketer as well as a Digital Marketing Strategist at Appkodes, Where he is expertise in writing content related to business, technology, and marketing trends. He specializes in creating resounding Digital Marketing strategies to increase traffic and conversions of visitors.