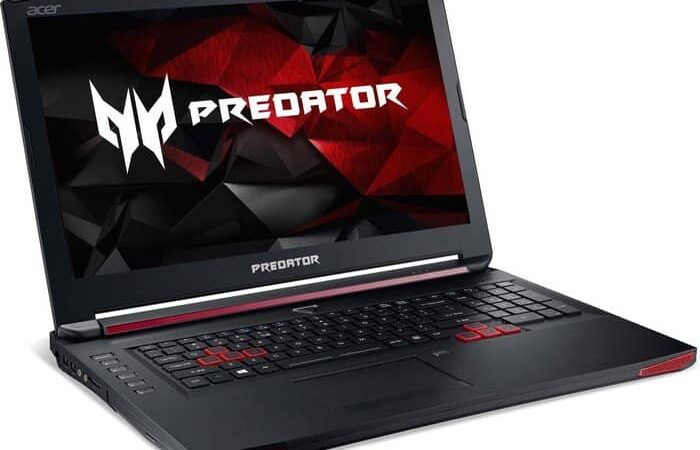 Are you a serious gamer looking for a gaming laptop to handle all your gaming needs? Look no further than the Acer Predator 17 G9-793.
Due to the flourishing gaming industry, gaming laptops have grown in popularity recently.
Choosing the right gaming laptop is essential to get the best gaming experience. One popular option is the Acer Predator 17 G9-793.
The Acer Predator 17 G9-793 is a high-end gaming laptop with impressive features and specifications designed specifically for gamers.
From its powerful processor to its stunning display, it is no surprise that this laptop has become a popular choice among gamers.
In this review, we will look in-depth at the Acer Predator 17 G9-793 to determine whether it is worth the investment for serious gamers.
What Makes This 17-Inch Gaming Laptop Stand Out From Its
Competitors?
Design
The Acer Predator 17 is a large, thick laptop with a soft plastic finish. It is comparable to the older Asus ROG laptops from 2013 to 2015, which you may have seen because they were quite well-liked and are still popular now.
Good luck keeping that portion clean. While the finishing feels lovely and is pretty dependable over time, it also reveals smudges and finger grease quite easily, particularly on the palm rest that will come in contact with your hands.
Display
For the Predator G9-793, Acer offers 17.3-inch matte IPS screens, one with a standard gamut and FHD resolution and the other with a wide-gamut panel and UHD resolution.
The former is on display here and is very impressive. The G9-screen 793 supports GSync and has a 60 Hz refresh rate as a novelty feature.
Those wishing for a high frame rate screen would have to go elsewhere. The FHD variant would support GSync, which is believed to have a 60 Hz panel.
Robust processor
The Acer Predator 17 G9-793 is powered by an Intel Core i7-7700HQ processor and 16GB of RAM, providing speedy performance for even the most demanding gaming tasks.
This laptop also features an NVIDIA GeForce GTX 1060 graphics card with 6GB of GDDR5 VRAM, which can handle most modern games at high settings.
In addition, you get a large 1TB HDD and 256GB SSD, giving you plenty of storage space for all your games and other files.
Battery life
Regarding battery life, the Acer Predator 17 G9-793 can last up to 5 hours on a single charge.
This makes it great for gamers who are always on the move. Additionally, this laptop features a variety of ports, including USB 3.0, HDMI, and Ethernet ports, allowing you to connect all your gaming peripherals easily.
Myriad of features
The Acer Predator 17 G9-793 includes various features to enhance the gaming experience. It has an illuminated keyboard with anti-ghosting technology, ensuring accurate input even in battle.
The laptop also features Dolby Audio Premium sound, providing an immersive sound perfect for gaming and entertainment.
For gamers who want to stay connected on the go, this laptop also has built-in 802.11ac Wi-Fi and Bluetooth 4.2 support, allowing you to stay connected to the internet and your other devices.
Keyboard
The G9-keyboard 793 appears to be similar to that of the previous generation at first glance, but for some reason, my typing performance with the G9-793 sample could have been better than that of the G9-791.
A user claimed that he was not happy with the keys' resistance, even though they still have a pleasant feel and travel 2 mm deep inside the frame.
On this test sample, they needed to be more complex to push and actuate; thus, he frequently pressed the erroneous buttons, which resulted in many errors.
On the contrary hand, the low resistance on this keyboard allowed him to type quickly, and he liked the general rattling. Nevertheless, keep in mind that this is not a discreet typist.
Nevertheless, remember that this is not a quiet typist, so you might not. The arrangement is also rather good, with a NumPad area and the arrow keys visually housed separately from the others by the red framing.
Communication
The WLAN module Killer Wireless-AC 1535, created exclusively for gaming laptops, provides wireless connectivity.
The module may operate on either the speedier ac standard and the frequently overcrowded 2.4 GHz or the less-used 5 GHz frequency.
Because MIMO 2×2 allows for using two antennas, the theoretical data transmission rate is 867 MBit/s. The user can modify the settings using the Killer Network Management programme.
Maintenance
Even though the Acer is a gaming laptop, accessibility is not one of its strong suits. Two screws can easily remove the maintenance cover on the bottom, but only the M.2 SSD, 2.5-inch HDD, and t2 empty RAM slots are accessible.
The fan and the other parts must be completely disassembled to be accessed.
The Bottom Line
Like its predecessor, the Acer Predator 7 G9-793 isn't the sexiest, fastest, or most feature-rich 17-inch gaming laptop of its generation. Still, the flaws are typically made up for by its competitive pricing.
But, whereas some flaws of the G9-791, Acer's initial 17-inch gaming laptop, might have been overlooked, the users expected them to be rectified on this new model.
Still, they weren't because of the weak Wi-Fi connection and the inadequate keyboard for a modern gaming laptop.