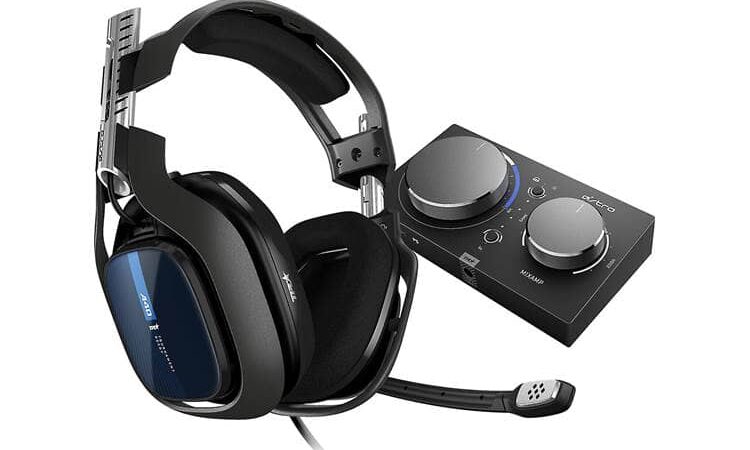 For both console gamers and PC, Astro A40 TR + MixAmp Pro 2017 is a premium gaming headphone combination that provides excellent audio quality, a secure fit, and powerful features.
The headset has a fashionable design, an adjustable headband, and a black and blue colour scheme. The ear cups are comfortable and effectively isolate sounds. The headset works with PC, Xbox One, and PlayStation 4.
It comes inclusive of a 3.5mm audio cable and a detachable microphone. If you're a gamer searching for a premium gaming headset, consider these headsets. It has a lot of functions, a comfortable fit, and exceptional audio quality.
They are well-made and incredibly cosy for extended gaming sessions. They have good audio quality but too much bass. They have a fantastic microphone for multiplayer online games, and their dock has useful controls.
Sadly, the headset is somewhat large. They won't be the best to use in a noisy area because of the open-back design.
Although the testers only tested the Xbox One version of this headset, they anticipated comparable outcomes with the PS4 version. If you are thinking of getting one for yourself or your friend, don't miss to check its features.
What makes the A40 TR Headset + Mixamp Pro 2017 worth buying?
It gives a balanced listening experience.
For balanced listening, these headsets are a solid choice. It features an intense and prolonged bass, an almost faultless mid-range, but a merely underemphasized and detail-poor treble.
Although their bass is inconsistent and excessive, some people may appreciate the extra thump. They do, however, sound a little muddled and disorganized.
Overall, they will sound better in video games with abundant explosion sounds and bass-heavy genres. Additionally, the amp's EQ presets may be readily cycled through, which is helpful.
It gives a sturdy feel and looks.
The Astro A40 and Astro A50 have highly similar designs, but the Astro A40 is a wired headset with a different colour palette.
They have a large, flamboyant appearance that makes them seem and feel like gaming headphones, making them unsuitable for outdoor use.
On the plus side, users can remove the microphone on the A40 but not the A50. These headphones stand out but appear to be well-made and robust.
It is comfortable to wear even for a prolonged time.
During lengthy gaming sessions, these headphones are quite comfy to use. The cups are big and expansive, similar to the Astro A50; thus, they should accommodate most ear sizes.
They are a little hefty, but the soft cushioning on the ear cups and headband evenly distributes the weight.
They are heavier than the A50, which may cause some people to become fatigued after a time, but they feel a little less constricting.
It offers decent breathability.
The Astro A40 traps as much heat as the closed-back A50, even though they are open-back headphones. Although there will generally be a slight temperature differential, it won't be excessively heated.
Airflow is still significantly obstructed by the pads' effective closure around the ears. Although they won't be a suitable choice for working out with because they aren't sports headphones, this shouldn't be a significant deal for gaming.
The excellent overall built quality.
The Astro A40 gaming headphones have excellent construction. The structure seems solid, and the materials utilized are of the highest quality.
Due to their density, the cups should withstand a few inadvertent drops without suffering too much harm. However, similar to the Astro A50, the headpiece only has a plastic mid-section that rests on the head, making it rather open and hollow.
Drawbacks
Despite a plethora of pros, there are a few limitations you need to be aware of before investing in these gaming headsets.
Its mediocre stability may disappoint you.
Since they are not particularly stable, these headphones are only suitable for gaming and light listening.
If you wear the headphones while engaging in any physical activity, they sway a lot because they don't fit your head too tightly and have hefty, thick ear cups. As a result, they won't be ideal for jogging because they weren't made for that use.
Not so good treble performance
The A40 headset's treble performance is merely adequate. The reaction is clearly below our intended curve across the whole range. As a result, the brightness and richness of the vocals and leads suffer a little.
Your hearing experience may vary, especially as treble frequencies don't always produce the same sound for every user because not everyone perceives them in the same manner.
Lacks portability
These gaming headphones are incredibly large. Although they are not particularly portable, you can detach the microphone if you desire to use them outdoors, and they do not require the MixAmp.
Although the cups can't be folded into a more manageable shape, they can be swivelled to lay flat, which makes it simpler to tuck them away in a bag.
These gaming headphones shouldn't be used outside your gaming environment and should spend most of their time there.
The Bottom Line
Any gamer seeking a premium audio experience should consider the Astro A40 TR Headset + MixAmp Pro headphones. Owing to their high-quality sound, they are excellent for listening to music.
It can produce a wide variety of frequencies, which allows them to produce sound with excellent quality. It is a perfect choice for music fans who like to listen to their music for extended periods of time.
The audio is crystal clear and crisp, and the headset is easy to wear. You can customize the game and conversation audio settings using the mix amp.
The Dolby Atmos compatibility makes sure that your gaming experience is realistic. In a nutshell, it is a fantastic choice if you're looking for a top-notch gaming headset.