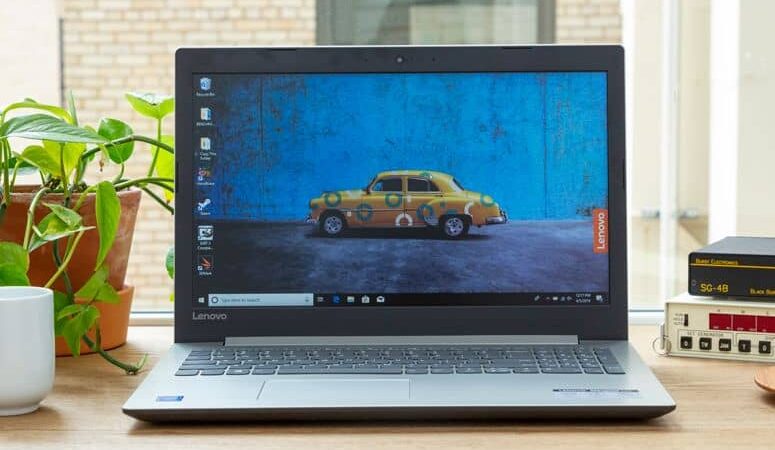 The Lenovo Ideapad 330-15 AMD is a budget-friendly laptop with solid performance and a sleek design.
This laptop features AMD Ryzen 5 processor, which provides fast and efficient performance for various tasks, including web browsing, video streaming, and productivity work.
The specifications list resembles those on a standard low-cost laptop, but the sturdy construction and productivity performance speak volumes.
For a little bit extra money, the IdeaPad is also available with a Core i5 processor, 8GB RAM, and 1TB solid-state storage.
Even if there is fierce competition in this market, gaining the freedom to configure the laptop of choice off the shelf is worthwhile.
Is this ultra-affordable laptop worth your money?
Lightweight and compact
With dimensions of 0.9 by 10.2 by 14.9 inches (HWD) and a weight of 4.85 pounds, this Lenovo Ideapad appears to be a compact, lightweight device that is convenient to carry.
However, it is more portable and lightweight than some of its rivals. Although it isn't made of aluminium, its sleek platinum grey frame feels quite solid and could easily pass for one.
In the Ultrabook and high-end notebook categories, metallic materials are used in the construction. The more expensive Lenovo systems employ this platinum grey profile and acquire stains like other notebooks made of the same material.
Features a bright display
One of the standout features of the Lenovo Ideapad 330-15 AMD is its 15.6-inch display.
This full HD display provides crisp and clear visuals, making it perfect for streaming movies, browsing the web, and more. The display also has narrow bezels, giving the laptop a modern and stylish look.
You might not immediately notice the low resolution, which is better than some cheap notebooks in the same category with drained displays.
To Lenovo's credit, the screen has an anti-glare coating that prevents reflections and makes it the ideal sub-HD media machine as long as you can watch the screen from the proper angle.
It comes with a great deal of storage space.
In terms of storage, the Lenovo Ideapad 330-15 AMD comes with a 1TB hard drive, providing plenty of space for your files and documents.
If you need even more storage, you can easily connect an external hard drive or use cloud storage services like Google Drive or Dropbox.
Decent RAM
The Lenovo Ideapad 330-15 AMD also comes with 4GB of RAM, which is enough for most basic tasks. However, if you need more power for resource-intensive tasks like video editing or gaming, you can easily upgrade the RAM to 8GB or 16 GB.
Amazing battery life
Another great feature of the Lenovo Ideapad 330-15 AMD is its long battery life. With up to 5 hours of usage on a single charge, you can take this laptop on the go without worrying about running out of power.
It has all the ports one could ask for
Regarding connectivity, the Lenovo Ideapad 330-15 AMD comes with a range of ports, including two USB 3.0 ports, one USB 2.0 port, an HDMI port, and an SD card reader. This makes connecting to external devices and peripherals, such as a printer or external hard drive, easy.
It comes with decent size keyboard and touchpad
The laptop has a 6-row chiclet keyboard with neatly spaced, non-backlit keys that are comfortable to use. The numerical pad on the right is a welcome addition, and the arrow keys are placed appropriately.
Each key has a distinct pressure point and a limited range of motion. Even speedy typists will discover the keys to be highly dependable and be able to navigate with ease.
The device's colour matches that of the touchpad. Despite being significant to the left, it is suitable for gesture control inputs.
Users can customise their touchpad gestures through the pad's configuration menu. It accurately records physical inputs and responds nicely to Windows 10 gestures.
Offers robust performance
The laptop includes AMD Quad-Core Ryzen 5, 8GB of RAM, 2500U CPU, and 256GB of SSD storage.
The system is completely adjustable, allowing you to choose a higher CPU, graphics card, amount of RAM, and screen size when placing your order.
A quad-core CPU with somewhat better performance than AMD A12-9700P, the Ryzen 5 is built for standard laptops and Chromebooks.
Although neither of these processors is designed for heavy workloads, they provide adequate performance for everyday office tasks and light multitasking with web applications.
You may play games on the built-in Intel HD 620 graphics card, an improved version of its predecessor.
Known to be a cool laptop
Even when we put this IdeaPad to the test by playing a 15-minute full-screen video, it maintained a respectable level of cooling.
The temperature of the keyboard and touchpad only increased to 81 and 83, respectively. Only the laptop's underbelly reached 96 degrees and exceeded the 95-degree comfortable threshold.
Low-quality webcam
Avoid using the inbuilt webcam on the IdeaPad 330 to avoid annoying the person on the other end of your video chat. Given that most of the cameras we evaluate are terrible, the 640 x 480 lens may be the worst you would have seen on a laptop.
The Bottom Line
Overall, the Lenovo Ideapad 330-15 AMD is a solid choice for those looking for a budget-friendly laptop with strong performance and a sleek design.
With its AMD Ryzen 5 processor, full HD display, and long battery life, it's well-suited for various tasks, including web browsing, video streaming, and productivity work.
So, if you are looking for a budget-friendly laptop with good performance, the Lenovo Ideapad 330-15 AMD is worth considering.