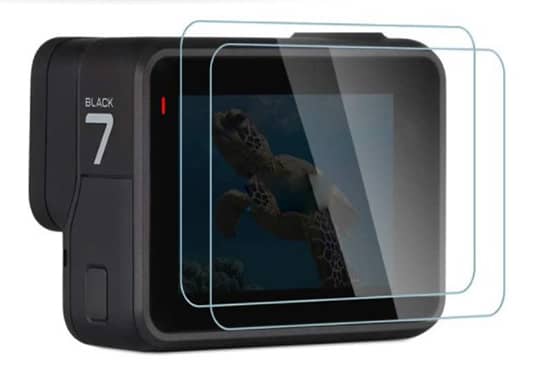 These days, more and more people are using action cameras. They provide a fantastic opportunity to document every part of your life without worrying about lugging along a heavy DSLR.
In addition, you don't have to carry multiple accessories such as tripods or lights, and you can easily share your photos through social media platforms such as Instagram and Facebook.
Action cams are used in many harmful ways. They are mounted to helmets, car bonnets, bike grips, and bike silencers to take captivating perspectives and action pictures.
They are susceptible to screen damage, dirt, and filth. Even water supplies and severe weather conditions might result in harm.
The lifespan of an action camera may be considerably increased by using protection, such as a camera screen protector, hard camera case, etc.
Action camera protectors are increasingly required because of the current broad and rigorous utilization of action cameras.
They are great for protecting your gear from scratches caused due to sand, dust, mud, and other elements that might damage your equipment.
How Action Camera Protector a great savior? Top Reasons to Buy
Offers high protection
Although most screens are made of glass, and scratch-resistant, applying a second screen protector adds an additional layer of protection to your smartphone.
The screen of your camera is one of the essential components for shooting pictures and seeing the results;
therefore, it has to be free of all annoyances. This is valid for point-and-shoot digital cameras that rely solely on the LCD screen for picture composition without a viewfinder. Increasing the security of your digital devices is always a good idea.
The front and rear screen protectors for the action camera protect the LCD from scuffs, scratches, and other damage—the maximum defense against high-impact falls, scrambles, scratches, and bumps.
Diminishes the glare
Light reflection is one of the purposes of glass coatings, which makes it challenging to create an image in low light.
In addition to protecting your screen, a screen protector improves your ability to view the photo you're trying to frame.
You'll appreciate the sun's glare's diminished significance if you've attempted to shoot a photo with the light reflecting right off the camera's screen.
Ensures optimum privacy
We offer several screen covers for cameras that prevent the screen from being seen in specific corners, allowing the user to see the images.
While this functionality is ordinarily accessible on computers, it is useful when you need to review your camera's photographs while keeping other people from seeing them. But if privacy concerns your camera, a screen protector might help.
Varied types of action camera protectors
Screen protector
Assists in shielding the screen from misuses such as dents, scratches, and blows from tiny objects.
Camera case
It protects the device from shock, vibrations of any kind, falls, and other accidents. Examples include a GoPro protective case and a hard camera case.
Waterproof case
When used underwater, this helps to waterproof your camera.
If you are not sure what type of cover would work best for you, check out the top five types of protective cases available
1. Foam Case
2. Silicone Case
3. Hard Shell Case
4. Waterproof Case
5. TPU Case
Top 5 Reliable action camera shields to keep your camera safe
from dents and scratches
Hard Case 46F Supreme Vanguard
This is one of the most durable camera cases. All camera gear is safe and protected when housed in this durable case, despite being a touch on the hefty side.
Large enough to accommodate numerous cameras and a wide range of camera accessories.
The interior foam that comes with the hard case may be altered. You may create a foam pocket for every piece of equipment by cutting off the parts you don't need.
This method makes sure that every object is firmly fixed and immobile. It's fantastic for travel by airline and adventure.
Nanuk 935 Hard Carry-On Case
This is a tough case made specifically for traveling camera operators. It has room for all of your necessary photographic gear. Additionally, you may travel without bothering about damaging your equipment.
The bag's cushioned divider insert keeps the action camera attachments and gear tidy and well-packed.
Foam is included inside the lid for further protection. You may carry heavier, more fragile goods by removing the foam inserts.
Air Pelican 1525
This is the most popular brand of camera complex cases. It is the best all-around protection case. It is compact, portable, and secure for protecting your photographic gear.
Weatherproof Hard Case from Monoprice
It is one of the most economical camera cases on the market. It has a tonne of storage capacity and offers excellent camera safety.
You may customize the soft cushioning to measure the camera's components precisely. When all the equipment fits properly, there is no need to worry about anything shifting while it is transported.
The Monoprice camera bag can protect your camera equipment down to -40°C. Additionally, it can survive submersion for up to thirty minutes without leaking.
Tekcam Protective Action Camera protector
The exterior of this action camera protection is made of water-resistant nylon, and the interior is lined with high-density pre-cut foam for additional padding.
It contains padding, is shock-resistant, and has a zipper closing to keep dust out.
There are three sizes of TEKCAM carrying cases: small, medium, and giant. Depending on the size of your camera and the attachments you have, you may select the one that best suits your needs.
Each one is cut differently; for instance, the enormous size may accommodate a motorcycle roll-bar attachment but not the lesser sizes.
The Bottom Line
Action cams are handy for capturing great footage for sports events, weddings, adventures, etc. When traveling, you can even mount them on bikes and cars.
Many people also wear cameras around their necks to capture unique shots at particular moments. Unfortunately, these devices aren't always protected against damage.
That's why buying a waterproof case is essential before hitting the road. Buying a waterproof case for your action cam isn't only helpful in protecting the device itself; it'll also ensure its durability.
If you frequently travel, investing in such a protective cover will save you the hassle of replacing a damaged camera every time you get minor water damage.