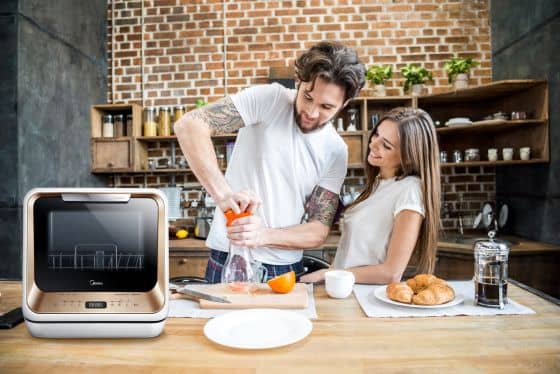 Midea is one of the world's leading appliance manufacturers known for its innovative and efficient products.
From fridges and stoves to air conditioners and dishwashers, they offer products that cater to all consumer needs. Recently, they launched several dishwasher models into the market, with varying capacities and features.
If Midea's newest line of dishwashers piques your interest, we have put together an overview of Media dishwasher reviews to help you decide if it is the right purchase for you.
Should You Invest In A Midea Dishwasher?
Midea dishwasher reviews highlight the features that make it an ideal home choice. The intuitive design allows you to easily access all the settings and controls, so you can customize your cycle to suit your needs.
It also has a large capacity, allowing it to accommodate large dishes, cookware, and other items. This brand also stands out with its advanced filtration system, which helps reduce water usage and improve cleaning performance.
How is Midea a Good Dishwasher?
Noise level
In terms of noise levels, Midea dishwashers are some of the quietest on the market. The brand's special insulation helps keep noise levels low so you can enjoy a peaceful kitchen atmosphere.
Plus, they come with an automatic self-cleaning cycle that takes care of your hard work.
Equipped with advanced features
The Midea brand also offers a range of advanced features for those who want to take their cleaning experience to the next level.
For example, some models come with a built-in sanitizing cycle, which helps to eliminate 99.9% of bacteria and germs from your dishes and cutlery.
Additionally, many dishwashers have an adjustable third rack to accommodate more oversized items, like pots and pans.
Types Of Midea Dishwashers
Midea has a variety of sizes, so if you're seeking something portable or that can fit in a small place, they might have the dishwasher for you.
Compared to the rest of the market, the Midea line of dishwashers typically ranges in price from $699 to $1,999, based on the type and size of the dishwasher.
The dishwashers in the Midea lineup provide all the features you'd anticipate from a dishwasher, including rapid and automated cycles.
They also offer a delay-start option and relatively low operating noise levels, allowing you to take advantage of off-peak electricity rates.
Freestanding dishwasher
Most Midea dishwashers come in the basic configuration, which is 60 cm wide and has 12 to 15 place settings. Thanks to these, as long as there is a water connection and drainage point, you can install your new dishwasher anywhere.
Dishwashers with an inverter are also available from Midea. They employ inverter technology, which is said to increase washing efficiency, shorten wash periods, and guarantee the appliance operates quietly.
Some Midea models are offered as freestanding options:

Midea MDW45FSS 45cm Freestanding Dishwasher,

The Midea 60cm Freestanding Dishwasher with 15 Place Settings (MDW15SS)

Midea's MDW15KBS-K 60cm Inverter Freestanding Dishwasher with 15 Place Settings
Built-in dishwasher
Consider a built-in model if you want the dishwasher to match your cabinets. The Midea 60cm Built-in Dishwasher (MDWISS) is the only model now offered on the Midea website.
This fully integrated dishwasher has seven programmes, including 14 place settings, Auto wash, and a cutlery tray.
Additional characteristics are:

Aqua-stop function

3.5-star energy rating

4.5-star water efficiency rating

Manufacturer's warranty for 3 years.
However, it lacks a decorative door and handles because it is a built-in appliance.
Benchtop dishwasher
Midea refers to this dishwasher as a "little" or "countertop" dishwasher, which you may need if your home is small or renting. Unlike most dishwashers, this one may be placed on your counter.
Furthermore, built with an internal water tank, these freestanding dishwashers don't need plumbing.
But, if you want a direct water connection rather than having to fill the dishwasher tank manually, you may have to connect the appliance to the kitchen faucet.
To clean infant tableware, some benchtop dishwashers from Midea have a high-temperature Steam Wash feature. They also have other programmes like a 12-minute Fast Wash, Sensitive Glass Care, and Off-Peak Wash.
Drawer dishwasher
Dishwashers in drawers are made to work like regular kitchen drawers. Depending on the size of your home, you can pick between a single-drawer and a double-drawer dishwasher.
This has a brushless DC motor, a double fan drying system, a stainless steel chamber, 7 place settings per drawer, seven wash programmes, and flexible baskets.
Also, this dishwasher gets 3.5 stars for energy efficiency and 4.5 stars for water efficiency.
The Bottom Line
Overall, Midea dishwashers are an excellent choice for anyone upgrading their kitchen appliances.
With its impressive features, energy efficiency and quiet performance, you can rest assured that your Midea dishwasher will tackle even the toughest cleaning jobs.
They also come with various convenience features that will make your life easier. Their sensors adjust the water temperature and usage according to the size and type of load you have.
At the same time, the adjustable racks allow you to customize the interior layout to fit different items. Plus, many models come with a digital display and controls, allowing you to select from different cycle options and adjust the settings easily.