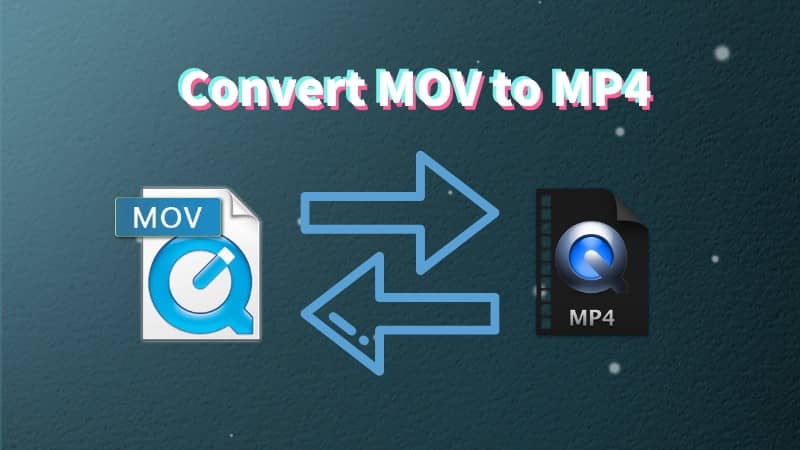 As video is getting increasingly popular in social media, business, or even people's daily life, various video formats have come into being in recent years, like AVI, MP4, MPEG4, MOV, etc. MOV is a widely used video format among users.
Usually, it is recorded by certain devices including iPhone, iPad, DJI drones or Nikon cameras, and so on. However, there always exist some processing and playing problems when putting MOV videos on video editors or mainstreaming media players.
If MOV files are large, like 4K and HEVC files, the situation only becomes worse. For users who are getting used to Apple products, the commonly used media player is probably QuickTime.
But, they will be confronted with errors such as freezing MOV video playback, video not being opened or imported, and missing audio track… In short, if you want to edit, store, play or share MOV videos, you'd better convert it to a more compatible format—MP4, for instance. Then how to convert MOV to Mp4?
What problems do you have while handling MOV videos
As mentioned above, MOV video files cannot be opened and read in some mainstream video players on macOS and Windows-like QuickTime Player, iMovie, Adobe Premiere Pro, Windows Media Player, VLC, etc. Error codec, popped up an error message, file not supported, black screen…all of these are annoying errors happening from time to time.
In addition, if you are a user of the following video editors: Adobe Premiere Pro, Sony Vegas, DaVinci Resolve, Lightworks, Windows Movie Maker, iMovie, and HitFilm, the MOV file cannot be imported for editing.
This is led by either empty/damaged MOV files or poor compatibility of MOV video files. Sometimes if a MOV video is only with a few kb, refusing to process may happen.
Such video file format, most of the time, is compressed with various codecs, so maybe some of them are not supported by your operating system. For example, if your Premiere Pro CC is not updated to version 12.0.1 or later, MOV HEVC video cannot be processed in it.
Moreover, for MOV video playback, sometimes it can be really troublesome. Maybe after you imported MOV videos, they can be played and edited. However, in the end, you find that there is no sound, which is quite annoying. An incompatible audio codec might be the cause.
Additionally, problems like the video and audio being out of sync may happen during processing them on QuickTime, VLC, Adobe Premiere Pro and QuickTime, etc. The reasons why this kind of error occurs can be a variable frame rate your program cannot handle, wrong settings, or corrupted media files.
Why convert MOV to MP4
MP4, compared with MOV, has greater compatibility. No matter it is for android, iPhone, PC, or media player, MP4 is a widely recognized video format. However, MOV is mostly dedicated to Apple products, some popular cameras, and drones. What's more, the MP4 format is smaller in file size.
There is a tiny quality loss in MOV videos, but the file size of them is getting bigger accordingly. MP4 format, with codecs like HEVC or H.264, can be compressed to a smaller size than MOV. This is better for video storage, upload to social media, and transferring.
How to convert MOV to MP4 efficiently
There is a huge amount of video converting products in the market. Considering output quality, file size, and processing speed, here we take WinX Video Converter as an example to introduce you to how to convert MOV to MP4 easily and fast.
This software can better handle 4k or HD MOV videos, supporting the ones recorded by DJI drones, iPhones, Canon, Nikon, Fujifilm, and some other cameras.
It helps you convert MOV files to formats like MP4, AVI, WMV, and hundreds of another video/audio formats that are easy to use on Windows. The following step is a detailed tutorial to do the conversion:
Step one:
Launch the video converting tool after downloading it. Click the "+Video" button to import MOV files.
Step two:
Once the MOV files are loaded, there will be the "Output Profile" window above the interface. Select "MP4 Video" among the "General Profile" list and click "OK".
Step three:
Choose an output folder, then click "RUN" to start converting MOV to MP4 in minutes.
Summary
MOV is a video format that has complicated factors including large file size, high frame rate and advanced codec H.265, etc. If you want to edit, store or play MOV files better, converting them to a more compatible video format like MP4 is inevitable.
WinX Video Converter is a nice tool that can help you convert MOV to MP4 and other formats. It can compress your MOV video file up to 90% so that your device's storage space will be largely saved. Reserved video quality and superfast processing speed are conducive for video playback and sharing.