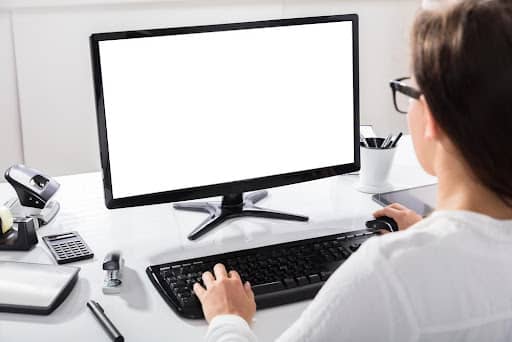 High-resolution monitors are the most preferable choice of every kind of computer user and it has become the most common buying product.
When we talk about rich colors, sharper image quality, and high dynamic range, 4K resolution LCD/LED computer monitors are one of the best choices. Even though you will also find 5k screens and even more advanced 8k screens.
However, if you are looking for an upper level and premium quality monitor with no over budget then 3840 x 2160 will be the right one for you, it is what your eyes can observe.
So mostly people prefer 4k screens whether you are surfing on internet, gaming, video calling on zoom, or watching a movie it perfectly fits in every kind of usage.
In the previous 4k screen was considered a super-luxury asset because it cost a lot. But with the changing in technology like 6k and 8k screens with high refresh rates dropped the prices of 4k technology.
Check out the Best budget 4K monitors you can buy in 2022
1. Samsung UR59C
Samsung is offering a 4k computer monitor at a budget pricing. The UR59C model comes with 32 inch VA panel with curves and improved accuracy.
Samsung UR59C offers superb quality with clear text, accurate colors, and bold. In sRGB mode the maximum recorded eye color error is 4.3dE, but with some calibration, it can be reduced to 0.9dE.
This screen made your games and web intended. The Samsung UR59C also provides brilliant contrast from its VA panel.
Usually, Ultrawide screens offer more visible curves, but despite the aspect ratio of 16:9, the Samsung UR59C cure is beneficial and more noticeable, providing you with a better viewing experience.
This monitor is not for pro gamers, but one can play some medium graphic games on it. The Samsung UR59C has previous technology 60 Hz refresh rate with 4 millisecond response time.
You will not get G-Sync or FreeSync to fight screen tears. The high pixel density, 32-inch bright screen, and high contrast make this product worth buying.
2. Dell S2721QS
The Dell S2721QS is one of the best 24-inch 4k resolution budget monitors. It comes with a reliable accurate image, a useful add-on, and a bright screen.
The major feature of this monitor is that you can connect numerous computer systems and view them simultaneously picture-by-picture and with an optional app.
You can calibrate the monitor to arrange up to 6 windows on a screen in various layouts.
HDR is not only the salient feature of this screen. This screen offers low saturated colors and there are also some greyscale errors in it.
Dell S2721QS does not have the higher refresh rate of Adaptive-Sync to make it a gaming screen.
In terms of image quality, the screen is super bright and has strong contrast along with a peak brightness of 393 nits.
3. HP U28
If you are looking for a professional monitor. The high-end monitors are better known for delivering better accuracy and they charge massive prices.
But, the HP U28 is one of the best 4K monitors for creative workers at budget-friendly pricing.
None of the 4k monitors on this list have color slouches, the HP U28 is giving tough competition to the rest of the market with its accuracy, P3 color spaces, and sRGB in a single switch. There is no need for future calibration in this monitor.
However, HP U28 comes at premium pricing, it is not that costly. But the price is few higher than the rest of the monitors on this page.
4. LG 32UN500-W
If you are looking for the best 32 inches 4k budget in budget-friendly pricing then you might not skip LG 32UN500-W. LG put contrast as its top consideration in this model, the image quality is brilliant.
The VA panel of LG 32UN500-W will never disappoint in quality benchmarks, it offers 2,353 nits and a 9:1 aspect ratio, which is out of the box.
The native color gamut of LG 32UN500-W is DCI-P3. 32UN500-W covers the color space accurately without any errors.
The drawbacks of LG 32UN500-W id it has some colors lack and the image quality does not provide a boost over SDR.
5. Samsung 27 inch S80UA
The Samsung S80UA has a 27-inch bright panel, it is a bit more expensive than a budget 4k monitor, but this monitor will not disappoint you in terms of color accuracy, image quality, and black levels.
The screen is super bright with balanced saturated colors, it covers 65% of DCI-P3, according to the company claims. In RGB mode, the lower color gamut error is only 2.8dE.
This screen also offers HDMI, a display port, and a headphone jack. But there is no speaker on the monitor like many 4K screens offer. The screen is also HDR supported. The S80UA has a great port and a USB hub.
It enables you to add three USB-A ports and for this, all you need is just a USB type C cable. The ports can support up to 100W which will let you charge your handheld devices.
6. Asus TUF Gaming VG289Q
You will have to pay a premium price for a gaming 4k monitor that can deliver 8.3 million pixels at the highest refresh rate of 144 Hz.
The Asus TUF Gaming VG289Q is the best budget 4k monitor however it only offers a 60 Hz refresh rate the salient feature of this screen is it comes with FreeSync which prevents you from screen tears.
The gaming experience of SDR games looks amazing on Asus TUF Gaming VG289Q. With a budget graphics card, you can get a pretty good experience from high graphic games.
End Notes
As we mentioned above 4k monitors are no longer a luxury product, you can easily get 4k screens at affordable rates. In the above list, Samsung UR55 is over the best budget 4K monitor out right now.
The ASUS TUF Gaming VG289Q attracts gamers. The 4k monitor gives an excellent viewing experience.
The reason behind this is the pixel ratio and high-dynamic rate. If you still cannot afford the branded 4k monitor you can also choose the used one, which will be available at very low prices on the market.