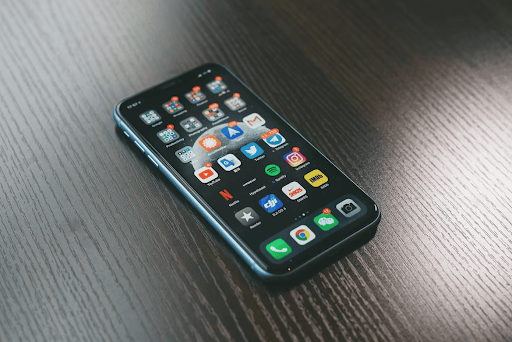 We believe that striving for increased productivity should not solely be for the purpose of accomplishing more or benefiting someone else financially. Instead, we view personal productivity as a means to enhance one's own life.
The purpose of organization applications for office workers is to streamline tasks, simplify processes, and maximize efficiency.
By doing so, these apps alleviate concerns, allowing you to allocate more time and energy to the activities and interests you cherish.
8 Best Productivity Apps
1 IFTTT
IFTTT (rhymes with gift) is short for "if this, then that." It's a website and mobile app that allows you to create personalized automation between various online services and devices.
It's similar to Apple Shortcuts, but has been around for a longer time and supports a broader range of apps beyond just those on your iPhone.
For instance, you have the ability to create a sequence like this: "If someone tags a photo of me on Facebook, then save a copy of that photo to Dropbox."
2 ClickUp
ClickUp is a fantastic project management platform and a superb organization app. It boasts a user-friendly and intuitive UI that allows you to effortlessly navigate and prioritize different project views. This streamlines project organization and management across teams.
Here are some of its best features:
Designed to be an all-in-one solution

Easy-to-use user interface

Features for visual thinkers, such as Whiteboards, Mind Maps, and Kanban

Seamless integration with third-party apps

Quick setup of recurring tasks
3 PDF Scanner App
If your work is related to digital document management, you can benefit from the scanning tool. With the scanner app, you can optimize your business processes. You no longer need a landline fax machine to digitize a document.
All you need is an  iPhone and a scan docs app. Among the apps to improve work performance, the mobile scanner is useful because it allows you to convert physical documents into digital ones in seconds and send them further.
4 nTask
It can be quite a challenge to stay productive when working on extensive projects that require meticulous attention to detail. However, with productivity tools like nTask, you can effortlessly manage every aspect of your project without wasting time or sacrificing productivity.
nTask is excellent for fostering team collaboration, creating effective to-do lists, and seamlessly integrating time-tracking tools with employee worksheets―among other features.
5 Miro
Miro is an incredible online and collaborative whiteboard that goes beyond being just a diagramming and presentation app.
Think of it as a versatile tool that combines mind mapping, video conferencing, and more. With Miro, you can effortlessly collaborate with others while drawing ideas or creating impactful slideshows.
It offers built-in features like video and audio calling, screen sharing, and even pulling in media from other apps like Vimeo and Asana.
One of the things that truly sets Miro apart is how incredibly user-friendly it is, despite its seemingly diverse range of features. Simply put, Miro is a tremendously invaluable tool that makes your work easier and more enjoyable.
6 Wrike
When you find yourself in need of a system to effectively manage projects and various types of work, look no further than Wrike.
This incredible online collaboration application assists organizations and their members in keeping track of ongoing tasks, including who is responsible, when they are due, and the progress being made.
At a higher level, team leaders and managers gain valuable insights into how these tasks contribute to the overall success of the organization.
Wrike offers specialized account types tailored to the unique needs of different industries, such as marketing and business services teams.
Furthermore, Wrike seamlessly integrates with numerous other applications and services, enhancing its functionality and versatility.
7 Doodle
Do you have any free time to meet up? And what about you? How about the others? Finding a suitable time and date for a group get-together is Doodle's specialty. You can use this app to create a poll suggesting different times and dates for everyone to choose from.
Doodle will automatically find the best option. Oh, and did I mention that the polling feature in Doodle is absolutely free?
If you decide to get a Doodle account, you'll also gain access to other useful scheduling tools, like having a public calendar URL where people can request meetings with you based on the time slots you specify.
8 Slack
Slack is one of the most well-known group messaging applications used by organizations. You can easily create a free Slack account, but there are additional features and support available for paid accounts.
Group conversations take place on Slack, where you can communicate with individuals, private groups, or channels where people have joined to follow specific discussions. Moreover, Slack also offers audio and video call functionalities.
In addition to being a productivity app, Slack has gained recognition for fostering a sense of community in the workplace.
One of the reasons why Slack is highly regarded is its ability to facilitate seamless connection with colleagues in real-time, asynchronously, or even publicly where others can contribute—an advantage that traditional email communication lacks.
Conclusion
These are just a few of the best tools to improve work performance. While most of these productivity apps offer free trials and plans, it is important to assess which features you need for your work in order to achieve maximum efficiency.
With these apps, you can easily manage projects, collaborate with teams, track time spent on tasks effectively, organize meetings efficiently, and much more.