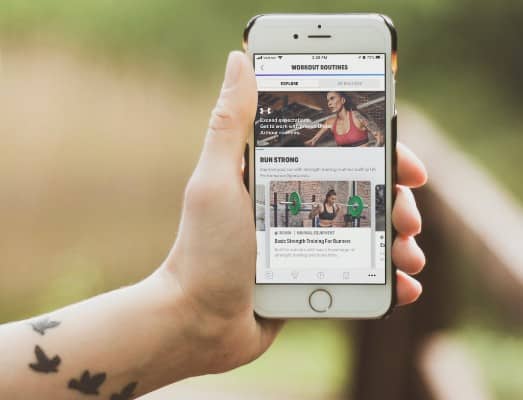 There are a lot of health and fitness workout apps to choose from. In 2015, more than 165,000 apps were available in the market.
Whether you want to use a mobile device for your exercise or simply want to track your progress, fitness workout apps are the perfect solution.
These apps can be downloaded and used anywhere. They also make it easy for you to stay on track while you're out and about.
Here are the Benefits of the most popular ones:
Numerous Features
Fitness workout apps come with numerous features. Some of them allow you to browse a catalog of workouts. Some even offer you a preview so you can see what the app will look like while working out.
Others will have an extensive database of workouts and let you track your nutrition.
However, these fitness apps are not for beginners. You need to have prior knowledge of working out to get the most out of them.
If you don't know how to do a certain exercise, it's a good idea to get a trainer for assistance.
Save Time
Another benefit of fitness workout apps is that they save time. You can work out in the comfort of your home with these programs, without the hassle of going to a gym.
These apps allow you to turn your living room into a gym with just one click.
Perfect For Traveling
They are also perfect for traveling. You can also work out without worrying about anyone seeing you. They will show you the exact exercises you need to do, and you'll see if they're right for you.
Other fitness workout apps are designed for busy people. Some of these apps offer 7 minute or less-time-long exercise routines.
Offer Audio Guidance and Textual Content
Other apps offer audio guidance and textual content that explain the process step by step.
These apps are very efficient in the long run, as they contain professional coaches to guide you through the process.
So, if you're pressed for time, these programs are for you. So, get a fitness workout app today!
Body Pump App Features
The Body Pump app features thousands of video-based workouts that are appropriate for both home and office use. You can do these workouts in a small apartment or a full-fledged bodybuilding gym.
For a limited time, you can download the app to your smart TV. It costs $15 for a month's membership and includes a free trial. You can try it out to see if it suits your needs.
While you can find many fitness workout apps on the market, there are some that are better than others. These apps are ideal if you're trying to make your own fitness regime.
While many people prefer to exercise at home, others prefer to work out at their own pace. It's a personal preference but it's worth the investment to get the right app for your lifestyle.
If you don't have time for an exercise class in the gym, download the YouTube app.
Provide ASICS Studio
Another great fitness workout app is ASICS Studio. With its simple interface and pre-workout demonstrations, the 7 Minute Workout app is the perfect companion for busy schedules.
It has a variety of features to choose from, including seven-minute abs workout videos. The program is free, but it can be expensive, depending on what you're looking for.
The most popular subscription-based workout apps also offer extra features.
For example, the Johnson & Johnson Official 7 Minute Workout app has thousands of workouts to choose from. Its short workouts can be done anywhere from the couch to the park.
The Johnson & Johnston Official 7 Minute is a free app for iPhone users, but it's also the most popular.
It also features a wide range of workouts. While most fitness workout apps require you to watch instructional videos, Aaptiv offers curated playlists so that you can pick a workout that suits your lifestyle.
The Onyx app is a popular option for women looking for a high-quality fitness workout app. Its artificial intelligence (AI) can watch your form and count reps.
It doesn't work on all iPhone models, but it does work with older ones. It costs $27 a month after a free trial. But it's definitely worth the price. You'll get a lot of value for your money with this app.