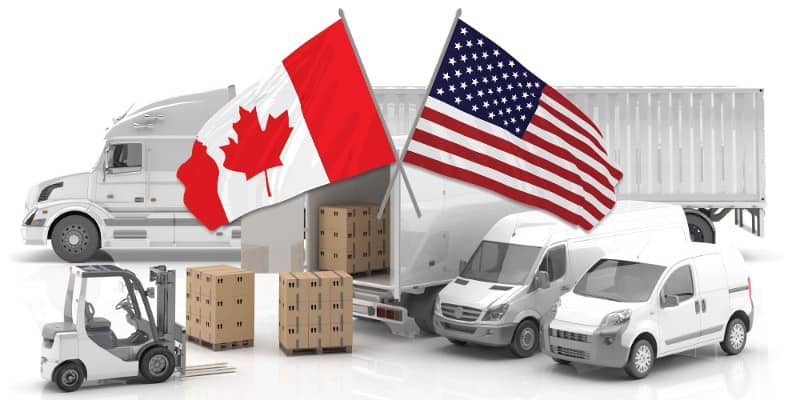 When it comes to shipping goods from the US to Canada, there are a lot of things to consider. The process can be complex, with many rules and regulations to follow.
In this guide, we'll cover everything you need to know about shipping to Canada from the US, including the process, the costs, and the regulations.
Why Ship to Canada?
Canada is the United States' second-largest trading partner, making it a key market for American businesses. With a population of over 38 million people, Canada presents a significant opportunity for US companies looking to expand their customer base. 
Additionally, with the recent implementation of the United States-Mexico-Canada Agreement (USMCA), trade between the two countries has become even more streamlined.
Shipping Options
When it comes to shipping to Canada from the US, there are several options to choose from. The most common shipping methods are air, ocean, and ground.
Air Freight:
Air freight is the fastest shipping method, but it can also be the most expensive. This option is best suited for smaller, high-value items that need to be delivered quickly.
Ocean Freight:
Ocean freight is a cost-effective option for larger shipments. While it may take longer than air freight, it's a good choice for items that don't have an urgent delivery deadline.
Ground Shipping:
Ground shipping is the most affordable option and is typically used for domestic shipments. However, it can also be used for shipping to Canada from the US, particularly for smaller items.
Understand Canadian Customs Regulations
Before shipping to Canada from the US, it's important to understand Canadian customs regulations. This includes knowing what items are prohibited or restricted, as well as the necessary documentation and labeling requirements. 
Failure to comply with these regulations can result in delays, fines, or even seizure of your shipment. To ensure a smooth shipping process, it's recommended to work with a reputable shipping company that has experience navigating Canadian customs.
Choose the Right Shipping Method
When shipping to Canada from the US, it's important to choose the right shipping method based on your specific needs. Some factors to consider include the size and weight of your shipment, the urgency of delivery, and your budget. 
Options for shipping to Canada from the US include ground shipping, air shipping, and expedited shipping. Be sure to compare rates and delivery times from different carriers to find the best option for your business.
Calculate Shipping Costs and Taxes
Before shipping to Canada from the US, it's important to calculate the shipping costs and taxes associated with your shipment.
This will help you determine the total cost of shipping and avoid any surprises. Shipping costs can vary depending on the carrier, shipping method, and size and weight of your shipment. 
Additionally, you will need to consider any taxes or duties that may apply to your shipment when it crosses the border.
Be sure to research these fees and factor them into your shipping costs to ensure a smooth and hassle-free delivery.
Prepare Your Shipment for Customs Clearance
When shipping to Canada from the US, it's important to prepare your shipment for customs clearance.
This includes properly labeling your package with a detailed description of its contents, including the quantity and value of each item. 
You will also need to provide a commercial invoice, which should include the same information as the package label, as well as the country of origin and the harmonized system (HS) code for each item. It's important to ensure that all of this information is accurate and complete to avoid any delays or issues with customs clearance.
Track Your Shipment and Ensure Delivery
Once your shipment is on its way to Canada, it's important to track its progress and ensure that it arrives at its destination.
Most shipping carriers offer online tracking services that allow you to monitor your package's location and estimated delivery date. 
You can also opt for additional services like signature confirmation or insurance to provide extra security and peace of mind. By staying informed and proactive, you can ensure that your shipment arrives safely and on time.
Documentation
There are several documents required when shipping from the US. 
These include:
Commercial Invoice:
A commercial invoice is a document that provides information about the item being shipped, including its value and origin.
NAFTA Certificate of Origin:
If the item being shipped qualifies for NAFTA, a NAFTA Certificate of Origin is required to claim preferential duty treatment.
Bill of Lading:
A bill of lading is a document that serves as a receipt of goods shipped and a contract between the shipper and the carrier.
Customs Declaration

:
A customs declaration is a form that provides information about the item being shipped and is required by Canadian customs.
Final Thoughts
Shipping to Canada from the US can be a complex process, but with the right planning and preparation, it can be a smooth and successful experience. When shipping to Canada, it's important to consider the shipping options available,
choose the right carrier, calculate shipping costs, be aware of duties and taxes, complete the necessary documentation, and package the item properly.