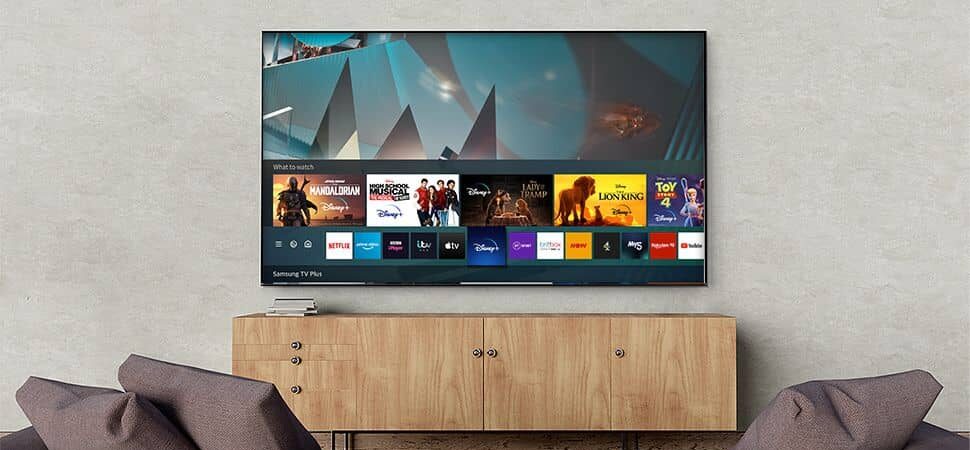 Are you looking to upgrade your TV and want the latest model from a trusted manufacturer? Then the Samsung TU7000 is worth considering.
Released in late 2020, this 4K Ultra HD TV boasts incredible picture and audio quality and a range of smart features.
The Samsung TU7000 is one of the company's newest entries in its UHD lineup, promising top-of-the-line performance for any home theatre enthusiast.
It has replaced last year's Q8FN series in Samsung's lineup and offers several enhancements over its predecessor.
Featuring Quantum Dot display technology and HDR support, it will undoubtedly provide an immersive experience with vibrant colors and deep blacks.
In the Samsung TU7000 review, we'll cover the design, features and performance of the Samsung TU7000 UHD TV to help you decide if it's right. Knowing these aspects will ensure that your choice suits your needs.
Should You Invest In This Smart TV?
It boasts a plethora of features.
The Samsung TU7000 UHD TV has several smart features that make it easy to access your favorite content.
The Smart Hub interface makes it easy to find what you're looking for, and the voice assistant compatibility allows you to control the TV with just your voice.
You can also directly access streaming services such as Netflix, Hulu, and Amazon Prime Video from the TV.
It exudes a premium design.
The Samsung TU7000 boasts an incredibly sleek and contemporary look for a budget model. All four sides of the bezels are quite thin and don't draw attention to themselves.
The slim bezel and sleek stand create an elegant look, while the back panel is designed to blend in with your wall.
The TV also has a built-in cable management system to keep all your cables neatly organized. Additionally, the TV has a remote control with dedicated buttons for quick access to streaming apps, such as Netflix and YouTube.
However, the stand is fairly simple and does nothing to stop the TV from swaying.
Superb performance
When it comes to performance, the Samsung TU7000 UHD TV excels. The 4K Ultra HD picture is sharp and clear, offering enough detail to immerse you in whatever you're watching.
There is also minimal motion blur and fast response times, making it great for gaming. The audio quality is also impressive, with Dolby Digital Plus processing providing powerful sound.
Its back gives a good feel.
The TV's plastic back features the same horizontal etched texture as other contemporary Samsung TVs, such as the Samsung TU8000.
The inputs are side-facing in the rear of the TV, making them challenging to reach when the TV is mounted on a wall. The TV's back has tracks for managing cables, and the feet have clips to keep them in place.
It has a sturdy built.
This TV is generally known for its well-built. Although it is primarily built of plastic and contains a small number of quality components, it has no severe flaws.
It produces rich blacks in a dim environment due to its high contrast ratio. However, no local dimming option exists, and black levels have been somewhat boosted.
Specs
The Samsung TU7000 has a 55-inch LED display with 3840 x 2160 resolution and a 4K UHD Processor. It has a 60Hz refresh rate and 4 HDMI ports for connecting external devices.
The TV also supports Wi-Fi and Bluetooth connectivity, so you can easily connect to the internet or stream media from your phone or tablet.
Disadvantages
It lacks a dimming feature.
There is no flaring around specular highlights in otherwise gloomy scenes on this TV because it doesn't have a local dimming option.
Dark scenes have increased blacks when dazzling highlights are on the screen because the full illumination has always been on at the same intensity.
Its brightness can be a big disappointment.
The peak brightness on this TV is below average in SDR. It works best in a dim to moderately-lit space as it's not bright enough to eliminate glare in well-lit spaces.
Except for the 2% window, darker due to the TV's CE dimming, there is virtually little brightness change with varied programming (frame dimming). Check out the Hisense U6H if you want something that brightens up.
These measurements were made using the "Movie" mode following calibration. Gamma was set to 2.2, brightness was set to its maximum, and Intensity was left at its default setting.
It has a small viewing angle.
It has an unfavourably small viewing angle. As you move off-centre, the image rapidly needs to be more precise and washes out, making it a poor option for a large seating arrangement.
Is this TV worth the money?
When it comes to value, the Samsung TU7000 UHD TV offers an outstanding balance of features and performance at an affordable price.
It's packed with features like HDR support, Quantum Dot technology and voice control, yet it will keep the bank intact. Its sleek design makes it a stylish addition to any living room.
With all these features and an attractive price tag, the Samsung TU7000 UHD TV is an excellent choice for anyone looking for a new 4K Ultra HD TV.
The Bottom Line
Overall, the Samsung TU7000 UHD TV is an excellent option if you're looking for an upgrade. It uses an AI-powered UHD Processor 4K, which offers sharp clarity and vibrant colors.
The TV also has HDR10+ technology, enhancing contrast, brightness, and detail. Additionally, it has an Auto Motion Plus feature which reduces motion blur for smoother picture quality.
It offers impressive picture and audio quality and plenty of smart features to make your viewing experience even better. With its competitive price point and an array of features, it is definitely worth considering if you're shopping for a new TV.