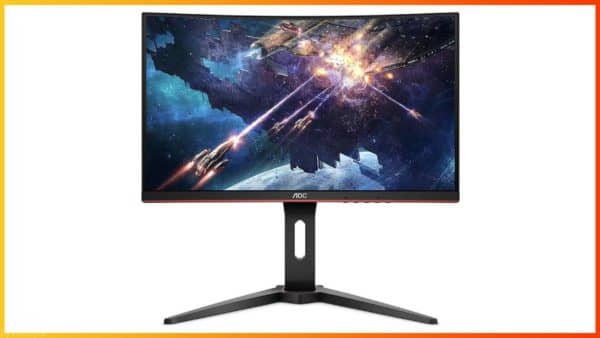 Recent years have seen significant advancement in gaming display technology as manufacturers have pushed the envelope to give players the finest performance and graphics.
An excellent illustration of this is the AOC G2590FX, which has a great display and many features intended to improve gaming.
The correct display is essential when gaming, as every second counts and every detail matters. With its exceptional performance, the 24.5 AOC G2590FX gaming monitor offers players an unparalleled immersive and fluid gaming experience.
With this monitor, any gamer can enhance their game irrespective of how experienced they are as a simple or competitive esports player. Therefore, let's dive into its features and determine why it should be among your considerations.
9 Reasons Why this Gaming Monitor From AOC is Worth Every Penny
Display Features
It stands out from the competitors because of its amazing assortment of display features. With a 25-inch screen, a refresh rate of 144 Hz, and a Full HD 1080p resolution, this monitor provides a unique visual experience for gaming.
Every game seems more alive thanks to the vivid, sharp graphics, and the high refresh rate guarantees enjoyable gameplay.
Gaming Performance
Performance is crucial for gamers, and this AOC gaming monitor delivers the same. It almost completely removes motion blur and ghosting with a 1ms response time, allowing you to stay ahead of your rivals.
The snappy gameplay and little input lag might give you the necessary advantage in quickly moving games.
Design and Build
The sleek, simple style of the display draws the attention. An immersive gaming environment is created by its small design and minimal bezels. The build quality is exceptional, making it a durable investment for years of gaming pleasure.
AMD FreeSync Technology
AMD FreeSynch technology gives you smooth gameplay by synchronising the refreshing rate of your computer monitor to suit the frames per second delivered by your graphics card's output, thus eliminating tears, stammering, and ghosts.
The response time of only 1 ms and a refresh rate of 144 hertz makes this display perfect for competitive gaming.
Amazing Refresh Rate of 144Hz
Get a monitor with double the frame rate of other displays to bid adieu to jerky motion and stuttering images.
Every frame is presented crisply and smoothly at a refresh rate of 144 Hz, allowing you to precisely align your shots and see high-speed racing in all their splendour.
Connectivity Options
Several connection options can allow you to easily link up your PC, the game console, and all the other devices. It is also easily compatible because you can connect it with most systems via HDMI, DisplayPort, or VGA.
Ergonomics
The screen height of this monitor can also be altered according to one's needs during a long session of playing games. This is a comfortable monitor.
Price and Value
One of the most compelling aspects of the AOC G2590FX is its affordability. It offers remarkable value for money, providing top-tier gaming performance without breaking the bank. Gamers on a budget will appreciate the combination of quality and price.
User Reviews
Assessing a product's effectiveness is ideally done by speaking with its users. The AOC G2590FX has mainly received excellent reviews from users, many of whom have praised its performance, display quality, and cost.
Although there are a few little complaints, the gaming community has reacted chiefly well to it.
Pros and Cons
Pros:
Stunning Full HD display with a 144Hz refresh rate.

Lightning-fast 1ms response time for minimal motion blur.

Affordable price without sacrificing performance.

Adjustable ergonomics for comfortable gaming.
Cons:
Limited to a 25-inch screen size.

Basic design without RGB lighting or extra features.

Tips for Optimal Gaming

Maintenance and Care
Regularly clean the screen with a soft, lint-free cloth to keep your gaming monitor in top condition. Avoid using harsh cleaning solutions that can damage the display.
Is this Gaming Laptop Worth Buying?
The AOC gaming monitor with 144 Hz refresh rate, 1 ms response time, and AMD FreeSync is perfect for fast-paced games. When these features are integrated, you can tear up less screen to play games more smoothly and without stuttering when shopping for a graphics card.
Additional specifications include compatibility with 16.7 million colours, a brightness rating of 400 cd/m², and a static contrast ratio of 1000: 1.
After hooking it up with your computer in the form of HDMI, Display Port, or VGA, tilt this display to whatever angle you want. If not, you can install an optional mount or arm with VESA mounting holes on the back.
Conclusion
One example of how gaming technology has become more widely available without sacrificing quality is this AOC Gaming Monitor.
Its remarkable display characteristics, excellent gaming performance, and reasonable pricing make it a perfect option for recreational and competitive gamers.
If you want to improve the quality of your gaming without going over budget, you should give the AOC G2590FX serious thought.
FAQs
Is the AOC G2590FX compatible with gaming consoles?
It works with game consoles with DisplayPort or HDMI ports.
Are there speakers incorporated into the monitor?
No, the AOC G2590FX does not have built-in speakers. You will need external speakers or headphones for audio.
Can I mount the AOC G2590FX on a wall?
Yes, it is VESA mount compatible, so you can easily mount it on a wall or monitor arm.
Can I use FreeSync or G-Sync with this monitor?
The AOC G2590FX supports AMD FreeSync for tear-free gaming but does not have NVIDIA G-Sync support.
Is AOC a reputable brand monitor?
In 2019, AOC was the top-ranked gaming monitor brand worldwide. In APJ 2017, AOC Monitor came in first. AOC and FOX worked together on the critically acclaimed film Kingsman: The Golden Circle.