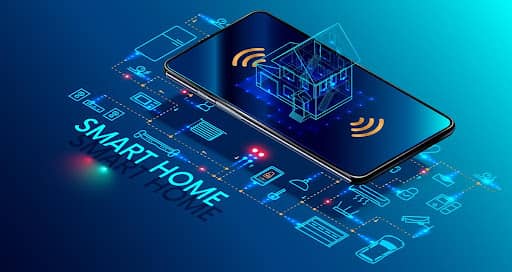 "Hey Google, turn on the lights! Alexa, switch the heating on!"
These commands are already commonplace in thousands of homes across the globe. This is because homeowners are now embracing automation by filling their properties with all manner of smart devices.
At their core, smart home automation systems are designed to make life easier for those that purchase them; these tech solutions are connected to the Internet and control electronic appliances like lights and thermostats.
Users can communicate with these IoT devices and issue them instructions using their voice, physical gestures, or a dedicated smart app.
This ease of use has well and truly caught the global population's attention. It's 2022 – why would a person now go out of their way to switch off light bulbs when their home network can perform this task on their behalf!
The consumer appetite for smart home devices cannot be denied, and the stage is set for this technology to become less of a luxury and more of a day-to-day necessity.
But how exactly will smart home automation affect our future? Will its increased importance ultimately help or hinder us in our everyday lives?
To find out more, be sure to read on.
Advantages of Home Automation; What They Mean for the
Future
Home automation isn't just a trendy way for homeowners to keep up with the Joneses. There are already many practical benefits to be reaped from adopting this technology.
Many of which are only set to become more advantageous to the global population as connected home solutions increase in proficiency.
Two of the most significant practical advantages of using smart home tech include:
1. Device Management
Having the ability to manage several smart home devices via one platform is a standout benefit to adopting this technology.
As if being able to turn on lights and lock doors with voice control wasn't already convenient enough.
Device management optimization allows the user to control their collection of smart home devices from a dedicated app platform.
This allows them to control the exact functionality of their home network while seated.
When integrated into a connected home, IoT devices interweave through a single interface.
This is set to make everyday life even more manageable as smart home devices develop further; before too long.
Homeowners will be able to operate security cameras, door locks, and even their lawn mowers with the click of a single button.
This will undoubtedly prove incredibly advantageous to the members of the elderly community who, as a result of their restricted mobility, cannot carry out general household tasks.
2. Adaptability
Smart home tech is incredibly adaptable when it comes to accommodating new integrations. This is in large part thanks to the standardization of Internet Protocol.
This data transfer method allows information to be shared across several frameworks, thereby clearing the API pathway for competing networks.
By embracing this standard, the smart market has established an IoT interface that enables both wireless and device-to-device communication.
This adaptability allows homeowners to grow their suite of devices and, in turn, keep their fingers on the pulse of the latest lifestyle tech trends. Believe it or not, this could have a profound effect on the future housing market.
A staggering 81% of American homebuyers claim they'd already give preference to smart homes, and this percentage is only projected to grow as the tech-savvy Generation-Z take their first steps onto the property ladder.
According to recent projections, it won't be long before home automation is deemed a value-increasing property commodity.
The Future of Energy Efficiency and Resource Optimization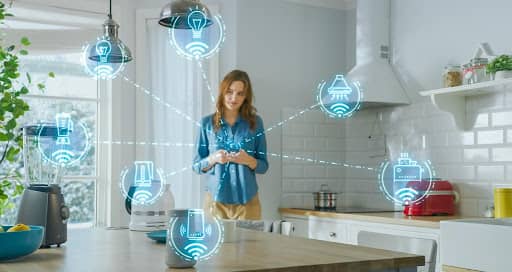 The connected home offers a plethora of personal benefits. On a much larger scale, it enables the optimization of several essential resources that, when left unattended, can have a detrimental impact on the environment.
Smart IoT devices can audit their own performance, pick up on certain environmental elements, and subsequently make appropriate changes to how they operate.
Crucially, this allows them to pinpoint where utility resources (energy, water, etc.) are being misused and, in turn, enforce actionable changes to cut down on any needless wastage.
For example, automated home systems can now recognize when the homeowner leaves their property; it then turns off any light bulbs and other appliances accidentally left on.
Not only does this help to cut down on the property's carbon dioxide emissions, but it also slashes the homeowner utility costs.
Future home systems are being designed to recognize user patterns. This will only increase the overall energy efficiency of smart home devices, as it will allow them to deduce when the homeowner is likely to leave and return to their property.
With this real-time information at hand, smart home tech tools will be able to switch appliances on and off at eco-appropriate times.
The Home of the Future, Enabled by the Tech of Today
Smart home devices are typically equipped with cameras, microphones, and sensors to enable next-gen resource optimization, energy efficiency, and ease of use.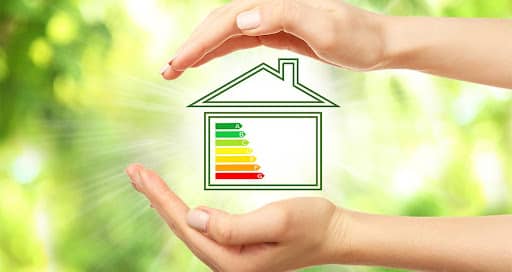 Several critical back-end integrations are required for these cutting-edge tools to operate inefficient tandem.
In general, smart home APIs consist of three main elements – DataChannel, PeerConnection, and MediaStreams.
With these enablement solutions in place, the signal channel connection is coordinated and the media exchange is streamlined.
This facilitates a process known as bi-directional data exchange. As this flow of information becomes more proficient in the future, it could lead to artificial intelligence IoT devices making their own informed decisions.
From when to put the heating on to what to record on the smart TV, the AI decision-making possibilities will be endless!
The Future Is Bright for Smart Home Tech
Smart home technology has already enjoyed a rapid rise in prominence, and this progression isn't going to slow down any time soon. Analysts estimate that over 1.25 billion IoT devices will be shipped across the globe come 2024.
Now that it's integrated itself seamlessly into our homes and the very fabric of our society, smart home tech can go even further in its ongoing attempt to improve our everyday lives.
This technology will impact our future in a plethora of positive ways. It's going to ramp up our home security, increase our energy efficiency, and even have the ability to make decisions on our behalf.
The home of the future is automated. If you want to profit from the burgeoning smart home market, optimizing the automation solutions that you provide is very much advised.
By augmenting your current DevOps department with a specialist home automation development team, you will be able to integrate several popular solutions into your service framework.
These integrations include facial recognition, plug-and-play remote software, and mobile app configuration.
Author Bio
By: Prem Khatri
Prem Khatri is the Vice President of Operations for Chetu, Inc., a global, custom software development company, where he oversees all development projects and technical operations.
His primary responsibilities are to lead, track and manage technical teams that create custom software solutions. His background includes software development using C++, Java, and Microsoft technologies.
Since joining Chetu in 2008, he has helped the company become an award-winning global presence in the customized software development field. Prior to joining Chetu.
Prem worked for Tata Consultancy Services, as well as Blue Star Infotech, and is a graduate of both the University of Mumbai and Savitribai Phule Pune University. Prem is a certified Project Management Professional (PMP).