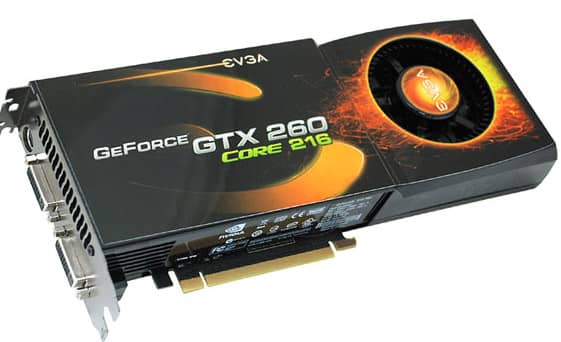 Nvidia has traditionally had a reputation for high quality graphics cards. They are known for their gaming prowess and power efficiency, with some of the highest performing GPUs ever developed.
The Nvidia GeForce GTX 260 Core 216 is a high-performance graphics card that was released in 2008. It is based on the Nvidia GeForce 9800 GTX+ GPU, built on the 65 nm manufacturing process and features 192 stream processors.
The GTX 260 Core 216 has a core clock speed of 576 MHz and a memory clock speed of 999 MHz. It is equipped with 896 MB of GDDR3 memory and has a memory interface width of 448-bit.
The card has a maximum power consumption of 182 watts and requires a minimum of a 500-watt power supply.
Naturally, this card also supports Nvidia's SLI multicard technology, along with hardware acceleration for PhysX, CUDA software, and all the other so-called "visual computing" features Nvidia loves to boast about.
What makes this card unique from its predecessor?
Key features
The GTX 260 Core 216 supports various features, including Nvidia's CUDA technology, which allows the card to perform general-purpose computations on the GPU.
It also supports Nvidia's PhysX technology, which allows for real-time physics simulations in games. The card also supports dual-link DVI output, connecting it to high-resolution monitors with resolutions up to 2560×1600.
Performance
In terms of performance, the GTX 260 Core 216 can run most games at high settings with smooth frame rates. It is particularly well-suited for high-definition gaming and video playback.
However, it should be noted that the GTX 260 Core 216 is an older model and may need help to keep up with the demands of newer games and applications.
Newly added hardware video decode accelerator (HVDCA)
The NVIDIA GeForce GTX 260 Series GPU includes an integrated hardware video decoder which enables it to decode H.264/MPEG4 AVC video content directly on the GPU without any CPU involvement.
The HVDCA can accelerate the decoding of H.264/AVC encoded videos using the GPU. It will not only improve the overall system performance but also reduce the CPU usage.
Versatile card
This series can be used for home theatre as with most contemporary 3D cards; however, it's undoubtedly excessive for a dedicated, non-gaming living room PC.
It can play HD content that has been encrypted, just like Blu-ray Discs, and the box even includes a DVI-to-HDMI adaptor.
To deliver audio across the HDMI port, you must connect the audio to either the motherboard audio chip or your computer's sound card.
This card can also handle two DVI monitors, which is half as many as the Sapphire Radeon HD 4850 X2, which has four DVI ports.
Enhanced memory controller
It uses a 256-bit comprehensive GDDR3 memory interface. The memory controller supports 4 GB of DDR2 533 MHz RAM modules. This allows you to use more than 1 GB of RAM on your PC.
Updated PCI Express interface
It uses a 128-bit wide PCI Express 2.0 interface. This allows the GPU to transfer data at much higher rates compared to older versions of PCI Express.
In addition to these features, the NVIDIA GeForce GTX 260 series GPU offers other improvements over previous generations.
For example, the NVIDIA GeForce GTX 280 series GPU has been redesigned to incorporate a larger frame buffer. This increases the maximum resolution supported by the GPU.
Drawbacks
Less noteworthy
When compared to the opposition, the GTX 260 is even less noteworthy. Except for Far Cry 2, the HD 4850 X2 was much faster despite costing more.
In the toughest testing, the card was beaten by the HD 4870, which costs more than £50 less than the core 216.
Less impressive
It demonstrates that ATI is currently more competitive than even the most recent Nvidia graphics cards. The added stream processors only slightly improve the GTX 260 over its predecessor, and the HD 4870 is both much faster and less expensive.
Should you buy this card?
Like other cards in this price bracket, it is a double-wide card that is powered by your PC's power supply directly by two six-pin PCI Express power connectors.
The Radeon HD 4850 X2 from ATI, which competes with this midrange EVGA card, has two 3D chips.
The extremely expensive GeForce GTX 295 is the only dual-chip card from Nvidia. We adore that card in its price range, but it's not the cheapest item available and needs to be more suitable for people with smaller monitors.
The Bottom Line
NVIDIA GeForce GTX 260 core 216 belongs to the GeForce GTX series. It is built around the new Kepler architecture. This means that it has 256 CUDA cores and 8GB GDDR5 memory.
The next model in the line, the GTX 265, comes with 768 CUDA cores and 12GB GDDR5 memory.
GeForce GTX 260 core 216 offers better performance compared to the previous generation of GPUs.
It's also less expensive, although the difference between the two cards isn't huge. In terms of design, they share almost identical specs, except the GTX 260 core 216 has 192 TMUs versus 128 TMUs for the GTX 265.