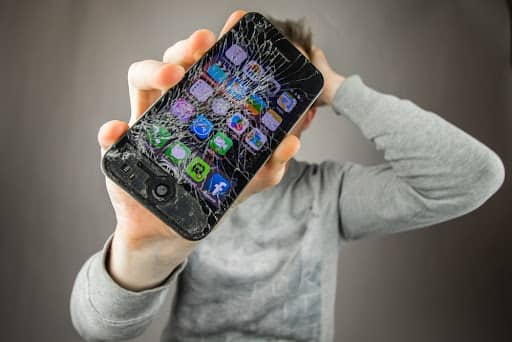 Smashing your phone screen is sadly something that happens to us all, normally more than once.
The fear that runs through your body as your phone screen lays face down on the floor is like no other and the acute realization of doom when you turn the phone over to a spider web of cracks is gut-wrenching. 
At the end of the day, it could be worse, although it never feels like it at the moment. You can always take your phone screen to be repaired for a small fortune, or you could even fix it yourself if you're savvy enough.
4 Best Ways To Repair Your Phone Screen
Take Your Phone into Apple:
Apple is arguably the best place to go and get your iPhone screen fixed. However, it is also thought to be the most expensive option.
 But you have AppleCare+ so surely this repair will be free right? Incorrect, you will still be charged a fee, albeit a much smaller one.
For screen only damage, you will have to pay £25. This is because AppleCare+ does not cover accidental damages. 
However, if you don't have AppleCare+ then the prices are MUCH higher. For the latest iPhone 13 Pro Max, you are looking at £316.44, same with all the 'Max' models.
While these prices are astronomical, you're paying for what you get. You can be sure that all repairs have been done with genuine apple parts and to the highest quality. 
Take Your Phone to a High Street Retailer –
This is the first place that most of us think about when getting a screen repaired. Whether it's an iPad, iPhone, or laptop they are well and truly a one-stop-shop for all your needs.
The convenience is unmatched, there is generally one or multiple in every town you could think of. Customers also love the fact that they know where to go and complain if something goes wrong. 
While usually brilliant, you do have to be cautious. It's not uncommon for screens that have been replaced by one of these high street retailers to become unresponsive.
Although the chances of this happening are slim, there is always a possibility. Always make sure the service includes some kind of warranty.
While they may be more accessible and convenient than visiting an Apple Store, the chances are they won't be much cheaper, if cheaper at all.
Actually, Timpsons currently have their iPhone 12 Pro Max repaired for £349.95, a whole £33.51 more than Apple.
Send Your Phone To an Online Repair Service:
Arguably the easiest of the lot, you simply answer a few questions online, box up your phone, mail it off or have it picked up and wait for your iPhone to return fully repaired. It also seems to be the cheapest of the lot.
Phonerepair.co.uk has their iPhone 12 Pro Max Listed at £299 including free home collection and delivery and a 12-month repair warranty.   
Pretty much all of the online repair stores offer some kind of warranty.
So you can rest assured if the screen for any reason becomes unresponsive, they will rectify the issue for you at no extra charge. 
DIY repair:
I have to start this one with a prefix, this is most certainly not for everyone and if you're not competing with your technology can end up damaging your phone even further.
Most of the time home remedies are for scratched screens as opposed to cracked screens with car scratch removal creams and even toothpaste being the base for these strange repairs. 
There is however a website called iFixit that has in-depth tutorials on how to repair everything to do with your phone. Word of warning, these are not for the faint-hearted.
Each tutorial has a difficulty rating so make sure you're not punching above your weight and causing more damage to your phone. 
To conclude, long gone are the days when a simple screen repair would set you back £40, technology is evolving and so are our phone screens.
Most phones now come equipped with OLED screens that are amazing to look at but cost £300 to replace.
The best suggestion is to fork out the £189 or £9.49 a month on AppleCare+ and only have to fork out a small fee of £25 to repair your cracked screen 
Written by Josh Green
Author at Loxit, a Tech Parts Provider in the UK & USA.