For a consumer to become familiar with a new brand it is said that it takes 7-8 times of exposure. But for nonprofits and charitable trusts, a person needs to hear their name at least 20 times before they begin to recognize it.
Therefore, it's crucial for them to effectively promote their campaign on relevant social media and other channels to be noticed. 
Some may argue social media and search engine optimization (SEO) are not correlated when it comes to digital marketing success and ranking.
But in reality, carefully crafted social media marketing (SMM) and SEO strategies play a significant role in succeeding in getting a better ranking on search engines. 
Here's how:  
As per Google's Quality Raters' Guideline, it uses E.A.T (expertise, authority, and trust) to evaluate each website.
Wherein Google checks a company's business directories and social media profiles to assess its legitimacy and trustworthiness, which affects ranking as well. 
It is especially applicable for nonprofits as it determines the success of their fundraising activities.
Therefore, it is essential for every nonprofit and charity to keep their SEO and SMM skills sharp and updated at all times.
In this article, we will focus on the top 5 SEO best practices for nonprofits. But before we begin, it is important to understand why online marketing nonprofit is important.
How does SEO benefit nonprofits?
1. Remain competitive against peers
Whether you are running a small charity or managing fundraisers for large nonprofit organizations, remaining competitive against peers is important.
SEO-optimized fundraising can level your playing field and ensure your site ranks higher than your competitors.
2. Nonprofit marketing can attract donors
In recent years, an online donation has gained major momentum and is changing the industry.
By implementing SEO best practices and carefully-laid online marketing plans, charities can attract donors worldwide and build long-term donor membership.
3. Raise awareness about a cause
Digital marketing and SEO can open up new avenues for your nonprofit. It can raise awareness about your charity, expand your reach globally, and attract donations from around the world.
4. Build credibility
Credibility can be achieved by sharing the success stories of your nonprofit.
You can send out newsletters or choose email marketing campaigns to gain the trust and loyalty of your potential donors and supporters.
Nowadays, an increasing number of nonprofit organizations and charities around the world are using digital marketing, SEO, SEM, and SMM to boost their visibility and create awareness.
But, if you are new to this, follow these 5 simple steps to create a full-proof digital marketing strategy, especially for nonprofits.
Create a nonprofit digital marketing strategy in 5 simple steps
Step 1: Define your S.M.A.R.T goal
The first step to creating a successful marketing strategy is to define your goal. It should be:
Specific – Share valuable factual information on the cause of the campaign through newsletters every month.

Measurable – Aim to increase the email opening rate by 50% every month.

Attainable – By sharing educational content through social media posts, white papers, case studies, and newsletters, you can attain a 50% higher email opening rate.

Relevant – Share relevant content about the cause your charity is supporting.

Timely – Email and social media campaigns need to be consistent. Your nonprofit must share some content on time.
Step 2: Know your donors and beneficiaries well
For a charity to succeed, building an emotional connection is as important as your approach toward the cause. This creates a drastic shift in your target audience.
Learn about their lifestyle and develop your nonprofit marketing campaigns around it.
You can also segment your audience into separate groups. This will help in creating personalized content.
Step 3: Set a keyword-focused message
Create your main message around relevant keywords that will become the voice of your nonprofit. In nonprofit digital marketing, keywords can put you ahead of the competition.
Step 4: Spread words about your campaign
You will be surprised to know, as per the Wired Wealthy Report, about 25.9% of potential donors read more than three-quarters of the charity emails they receive before making their donation decision. 
Therefore, you can discover, engage, and convert these people into donors and beneficiaries by promoting your campaign effectively.
All you need to do to reach out to those people is identify a suitable distribution platform and use it on time.
Step 5: Monitor your progress with KPIs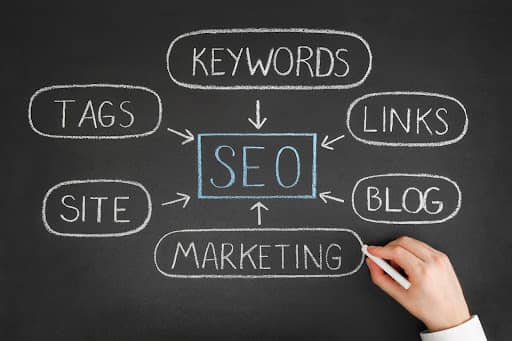 A long-term campaign needs the right tools to monitor progress. Use calendar and Key Performance Indicators (KPIs) specific to your nonprofit's goals to keep track of the timeline, employees, donors, competitors, beneficiaries, and marketing performance.
Furthermore, you can use online tools to easily measure the performance of your SEO strategies.
5 key points of SEO while building your social media strategy:
1. Keyword research to drive content marketing for nonprofits
High-quality content is the soul of any content marketing strategy. However, you can greatly influence your search engine rankings with effectively placed keywords. You can use online keywords research tools to discover and identify relevant high-ranking keywords.
2. Effective link building for brand awareness
The effectiveness of your link-building strategy determines your brand awareness. Create content that other companies would like to share and link back to—for instance, your nonprofit's annual reports. Make them sharable.
3. User-friendly website
A user-friendly, attractive website has a major impact on your donors. While building your nonprofit's site, you should watch the website's theme, images used, content, loading speed, internal links, and ease of navigation.
These elements determine whether the Google search algorithm will work in your nonprofit's favor or not.
4. Local SEO is your secret weapon
While promoting a charitable campaign with SEO, getting results from local geographic areas is invaluable.
Answering people's questions on Google reviews, and putting up images of your work can help you get to the top of the search.
5. Maintain a good social media presence
Social media plays an important role in any SEO strategy. Having a good social media presence optimized for donation is key to attracting potential supporters and promoting your nonprofit.
Conclusion:
Hopefully, these strategies have given you a fair idea about how you can navigate SEO and digital marketing for your nonprofit organization.
While it is true that this is the most sustainable way to get organic traffic to your website at a minimal budget, it also takes months before you see any success. 
With an effective keyword strategy, useful content, and cross-promotions, you can spread awareness about your cause to make the world a better place.
So use our tips to unlock the potential and maximize your charity's impact.