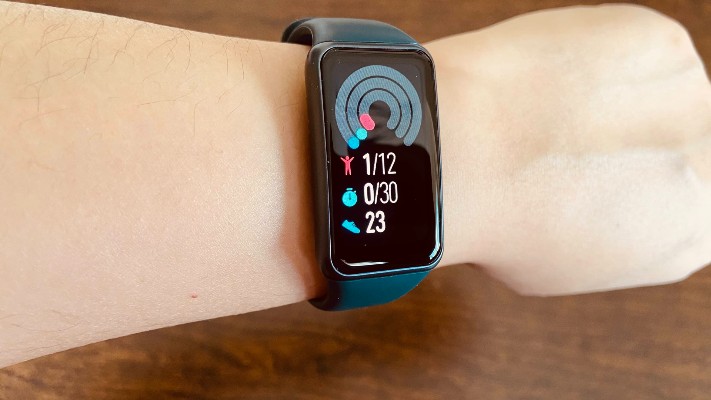 Want to wear something stylish and comfortable on your wrist that can go on for at least 2-week without charging again and again?
Ready for a workout but don't know what can perfectly secure on your wrist, which is both sweatproof and waterproof and can measure your calorie burnout?
If you are under a tight budget and want something that holds 100% value of money, then you must check out Huawei band 6. 
Huawei stepped into the field as the competitor of the smartphone brand, but in reality, it is first a world leader in telecommunications.
An Android-connected platform has recently launched Huawei band 6, an affordable, comfortable, and served with too many options in the segment.
An initiative display with a bright screen can constantly do SpO2 monitoring. Before going into the detail, don't forget to get our special discount on the Huawei band 6 buy, which is available on amazon.
Why do I need to Buy Huawei Band 6?
Containing all the features of an ordinary band, Huawei's latest band 6 has been winning people's hearts because of its ability to control your heart rate, all-day SpO2 monitoring, full-view display, and touch-sensitive screen with the brightest colors ever.
Solving the issue of putting it on the charge timely, Huawei has again focused on user's issues, and in this band, they have offered 2-week long battery life. What else?
The band has numerous fitness modes, and especially for women, it holds a regular fitness tracking system. Let's look at its features in detail:
Better screen and Better Design
While discussing the look of Huawei band 6, the hardware looks similar to the watch, with a 1.47″ inch full display, a high-resolution 194 x 368 display with 282 PPI, and constructed using polymer casing two-tone build.
A similar first-glace look of the aluminum Space Grey Apple Watches, the larger screen ratio, allows the user to see various things on display ranging from bigger photos to more exercise stats.
The single-screen can hold various information related to your fitness like constant heart rate, oxygen level, and more in stunning detail. The touchscreen intuitive 4-way control gives the freedom to the user to use it anyway. 
The silicone strap fits perfectly to the wrist to avoid sweat and itching. Being available in 4 different colors: Graphite Black, Forest Green, Amber Sunrise, and Sakura Pink.
Huawei band 6 has a variety of color options to choose from for both genders. The user-removable strap is skin-friendly, super-light, and refreshingly dirt-resistant. 
The band claims to have a battery life of 14 days to avoid charging and recharging. For extensive and heavy use, it can last for around ten days.
The best part about the battery is it takes around 5 minutes charge to pass on 2 whole days successfully. The whole wireless magnetic charging process takes around 1 hour to get fully charged. Besides this, Huawei band 6 comes with a tiny USB magnetic charger that no second connects at the back of the screen. 
A perfect companion for a fitness freak, the band holds 96 new fitness modes that further include 11 professional workouts. Keeping the gaol to keep you fit and healthy.
The band is made up to track both indoor and outdoor sports like cycling, running, walking, rope skipping, with more than 85 custom modes like dancing types, ball games, etc. 
Besides, the band has an autodetection feature that can detect the type of workout you are doing at present with an accuracy of 9 out of 10 times. All this is possible because of the company TruSupport's professional exercise algorithm. 
From the health point of view, the small, affordable band has beaten all its competitors, holding various advanced features on your wrist;
The band has proved its efficiency and demarks the fact it is worth every single penny. Some of the worth mentioning features of the new Huawei band six are as follows:
24/7 heart monitoring: To keep you healthy, using TruSeen 4.0 heart rate monitoring technology with optical lenses and AI-based data processing ensures to monitor your heart rate accurately around the clock. 

All-day SpO2 monitoring: SpO2 has a great significance, especially in the times of COVID, can cause fatigue, memory loss, and even brain or heart damage helps you to keep check 24/7. 

TruRelax Stress Management: In the busy, hectic life, Stress Management technology in the band helps you to keep a track of your mental health. 

TruSleep Tracking Management: not only measuring the time of sleep but also the quality of sleep to ensure you have a good and fresh start to the day. 

Menstrual Control Cycle: Keep a convenient menstrual calendar with HUAWEI Band 6. Get discreet and timely notifications when your period is imminent.

Performance and Accuracy:
Keep the most essential parameter the mind; it is essential to invest in something that gives your desired and accurate results.
The sensors used to measure the SpO2, and heart rate monitors give the best accurate outputs. 
The device is incredibly agile and fast when navigating through various menus and accessing features.
The Huawei Band 6 is an excellent choice for the fitness freaks and for the young generation as it offers excellent build quality, many workouts, and fitness options that many trackers can't match.