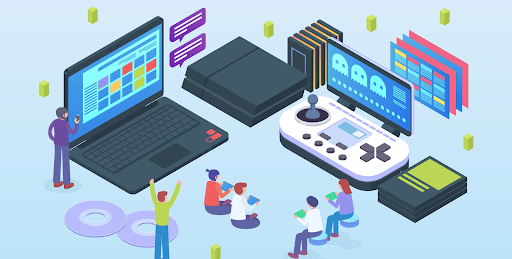 Games outnumber all other types of applications in the Apple App Store, accounting for roughly 20% of the nearly 2 million accessible. It's no wonder, therefore, that businesses are investing in game development.
Furthermore, many companies that have previously had nothing to do with the gaming industry are attempting to get into the sector. It's not only about making entertaining games; it's also about drawing new customers and directing them to other items.
However, standing out in a crowded field is really tough. What can you do to make your game stand out? Begin with these suggestions.
If you need more than advice to create your game, contact a trusted game development company.
Best Tips for Game Development
1. Be User-Centered
This is the most important factor to remember while creating any product. However, when the app's only purpose is to maximize engagement, such as in games, it's crucial.
Develop a clear picture of who your target user is before you start constructing your software. Personas regarding the sorts of individuals who will be interested in your game might be useful.
You should also do market research on your target audience's goals, likes, and requirements so that you can create a product that caters to their demands and improves the user experience (UX).
2. Market Research and Competition
You'll need to evaluate the market's circumstances in addition to determining the interests and desires of your target consumers — that is, would-be gamers.
What concepts are now popular? Which games have survived the test of time? What are your rivals up to these days?
You'll want to learn all there is to know about the gaming business so you can better comprehend the environment and the sorts of goods that thrive, as well as those that fail, so yours won't be one of them.
3. Make Your Game Stand Out
Now that you've figured out who your rivals are and who your target market is, you'll need to figure out how to differentiate yourself apart from both established goods and newbies.
As you presumably know, the gaming business is huge and congested, therefore your app's vision must provide something unique that your rivals don't – unique aspects or a tried-and-true formula with a twist.
Your game should outperform your competition by improving the user experience or solving issues that their goods have.
4. Include a hook
Hooks might be dynamic characters, unique music, an engaging plot, or a piece of animation. A hook captures the audience's attention right away, pulling them into your game, luring them in, and making them want to remain.
What is your catchphrase? Every game development team must create or uncover their own unique hook, the feature that will draw gamers in.
You must capitalize on it after you've recognized it, leveraging it to attract new users to the app and keep existing users engaged.
5. At First, Keep It Simple
When you're just starting out in game creation, keep things simple and avoid too complicated aspects. Otherwise, you risk alienating players by offering a perplexing product.
Keep in mind that the goal is to attract and retain users. You may experiment with more complex notions if you've been at it for a long and have established yourself as a superb product maker.
6. Put together a Fantastic Team
The crew behind every dynamic, compelling product is its backbone. Although they will play a part in the creation of the app, gaming development necessitates talents beyond those of a regular software developer.
It also necessitates the skills of a product manager, who will conduct market research and design a product roadmap, a project manager, who will organize the workflow and keep everyone on track, and a marketing manager, who will promote the product.
7. Test It
Even the tiniest, apparently unimportant issue has the potential to completely derail your game. You should extensively and rigorously test the game throughout the development cycle and before to deployment to reduce the occurrence of bugs.
Because games are interactive, dynamic products that need meticulous attention to detail, this is crucial.
Not only will highly skilled quality assurance (QA) testers be able to spot problems in your game, but they'll also look for methods to enhance other areas of the product, such as usability, performance, functionality, user load accommodation, and so on.
With so much competition in the game industry, you'll need to come up with a distinctive, entertaining product to stand out. These suggestions will assist you in laying a strong basis for your game's success.