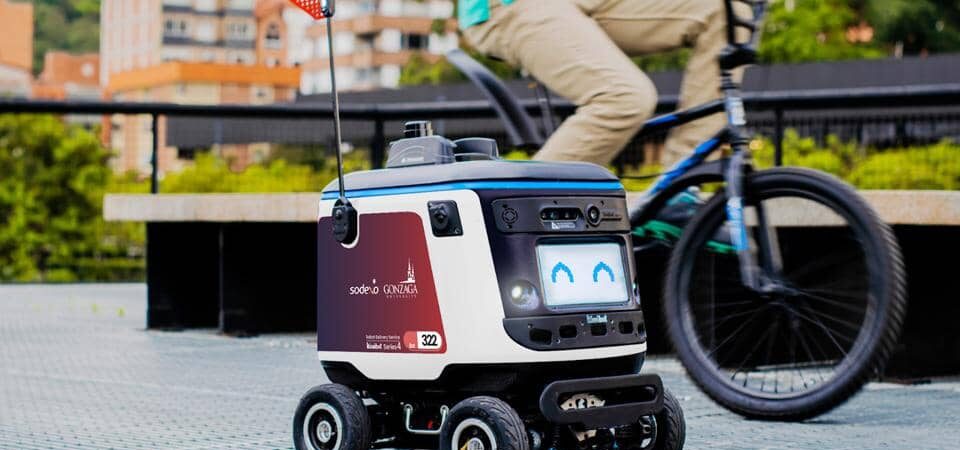 Technology is continuously evolving and becoming more affordable, allowing businesses worldwide to create more sophisticated and helpful devices.
Indoor delivery robots are available in the market. In addition, humans and robots are increasingly able to collaborate.
Additionally, man and machine can complement one other's capabilities and create more effective solutions to significant food delivery difficulties by working together.
In Northern California, indoor delivery robots have already begun to deliver consumer food orders. Small service robots have appeared in restaurants. In addition, loaded with food and then transported to hungry customers.
Indoor Delivery Robot
An indoor delivery robot is a self-contained robot that makes deliveries. It serves as a stand-in for a delivery person.
Indoor delivery robots have a number of advantages over traditional delivery methods, including cost savings, speedier customer service, and delivery precision, to name a few.
Indoor delivery robots perform many tasks, including food delivery, parcel delivery, medical delivery, postal delivery, and search and rescue. However, they are helpful in performing several tasks in the food outlets.
The global indoor delivery robot market is fueled by technological advancements such as artificial intelligence (AI) and machine learning, rising labor costs, and rising acceptance of robots for domestic reasons (assisting in retail stores, delivering room service, and so on).
As per Astute Analytica, the global indoor delivery robot market is forecast to grow at a CAGR of 24% during the forecast period from 2022 to 2030.
Indoor Robot Helping Hand for Food Delivery
Here is a list of indoor delivery robots assisting in food delivery:
KettyBot
Kettybot is a creative machine designed to function in restaurants, bars, cafes, and indoor food locations.
In addition, it has a compact design that saves space and is adaptable in high-traffic areas. Additionally, the 8-hour battery life gives the peace of mind needed for a full workday.
This restaurant robot has two screens that give it a personality, useful functionality, and the potential to advertise menu items and services to business providers.
Furthermore, AI voice interaction keeps the conversation going and aids this bot in meeting client needs.
Its 360° sound localization and processing technology, such as echo and noise suppression, detect the voice in noisy commercial surroundings.
By operating as both a host and a server, intelligent design and operation free up staff time. The top screen serves as a user interface for seating visitors and delivering meals to tables.
Kettybot can use auto path planning to explore more efficient routes. To avoid bumping things and dropping food, laser, and visual navigation detects obstacles in real-time.
BellaBot
BellaBot carries over the best qualities of the previous generation while adding higher human-robot interaction capabilities.
BellaBot offers users an unrivaled food delivery robot experience, complete with a novel bionic design language, cute modeling, multi-modal interaction, and many new features.
BellaBot also includes four stacked shelves for food trays, adjustable delivery capabilities, and a navigation system that will allow it to safely navigate around restaurant patrons, tables and chairs, and its human coworkers.
HolaBot
Holabot is Pudu's first dish-collecting robot, bringing autonomous mobile robots to the plate-collecting market for the first time.
Holabot can efficiently increase restaurant turnaround efficiency because of its large capacity, high carrying capacity, gesture recognition, and voice control module.
HolaBot has been widely adopted in catering and other industries, resulting in significant gains in productivity.
Delivery Robot-T1
Delivery Robot-T1 multi-sensor fusion technology using LIDAR, machine vision, depth sensors, and other sensors. In addition, it is capable of locating and navigating with high precision indoors.
The food delivery robot can deliver food at restaurants, recycles plates, and serves tea and water in offices.
Additionally, it delivers express and takeout and offers products delivery services to the hotel business.
The robot includes a three-layer pallet. Each layer may carry a maximum of 10 kilos, while a single delivery can take 30 kilograms in total.
Delivery Robot-T2
With a huge capacity of 160 liters, a heavy load of 50 kg, an atmospheric and practical square body, and a more powerful motor arrangement.
T2 is a strong model for food delivery robots, allowing for more consistent service and a better overall experience.
During the dish distribution procedure, it has no contact and no pollution due to the brand-new enclosed structure and automatic cleaning of the inner cabin.
Customers are more relieved when there are no saliva drops. Dishwashing is effortless owing to the double-sided door design, saving time and energy.
PuduBot Box
PuduBot can assign many delivery tasks to different tables at the same point in time. Attendants place orders from many tables on different trays and enter table numbers.
In addition, PuduBot will deliver orders to consumers using the most efficient routes. In large and medium-sized restaurants, it helps provide buffet food, beverage, and napkins.
The robot follows preset closed paths and uses speech and visual notifications to invite customers to take what they want.
Huanhuan-3 Restaurant Robot
The robot travel directions automatically induct the human body and broadcast the hello, farewell speech language, enabling custom display visuals in different countries and language areas.
After the guest touches the robot, the robot will deliver the food to the specified table for the guest. In addition, it explains the restaurant's information or communicates with the guest before returning to the starting position.
BenBen
BenBen delivers the meal to the guest's assigned table, then explains the restaurant's policies. When the waiter or the guest touches the robot's screen, the robot moves to the next table or returns to the charging station.
Benben can deliver food to a single table and merchandise to three different tables in a single order.
Amy-Trackless Robot Waiter
Amy is an Intelligent Service Robot. In addition, it is a multi-functional, autonomous mobile robot that helps provide friendly and effective customer service to all guests or customers in a retail or hospitality setting. Additionally, it takes orders and recommends special meals of the day.
Servi
Servi is 445 x 430 x 1046 mm in size and weighs 33 kg, with a payload capacity of up to 30 kg. Each robot can load two trays and has a drawer for collecting dishes.
In addition, it allows for replacing or at least supplementing wait staff in a restaurant. Servi" is a food service robot that works with restaurant workflows to bring meals to tables and clean tables at the end of a meal.
Servi cautiously navigates to the desired table, dodging people and obstacles in route. Servi returns to the table to ask diners to place their plates in the garbage bin.