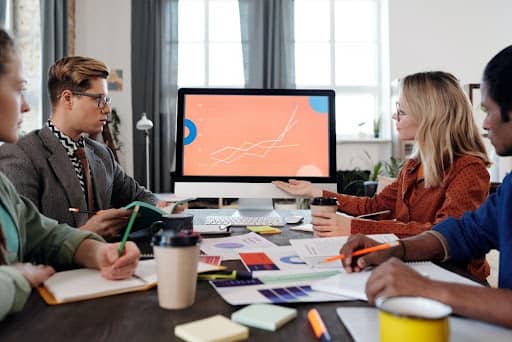 We live in the golden age of the global economy. Competitiveness in all fields of activity brings with it annual innovations that positively affect all consumers. But at the same time, opportunities for new firms are combined with difficulties in getting their services noticed.
As the number of newly formed establishments grows annually, it is increasingly difficult for entrepreneurs to get a foot in their market and take their brand to the next level.
Therefore, the services or products offered must be at a higher level, and so must the IT infrastructure that makes it possible to market the goods provided.
But you're not a computer science expert, nor do you have the experience or time to properly handle your company's cyber needs. Therefore, you will need to call in the experts at some point. And quality support can come through managed IT service providers.
What are they? They are specialized support firms that can take responsibility for your IT infrastructure and scale it according to the growth prospects of your enterprise.
Calling on professional IT companies can be one way to improve the security of your customers' confidential data. And the expertise of the specialists you call on could be crucial if you want to build an offline server or a NAS. But you probably have queries that need detailed answers.
Therefore, in the next few minutes, we will list why you might want to call on managed IT service providers, look at how they can help you with hardware upgrades, and present the elements that denote the quality of professional IT firms.
Why Managed IT Service Providers?
With a population of just over 640,000, Washington, DC, is not a large city. Instead, it is a diverse one where existing industries are constantly at war for market supremacy.
The professional services of an IT company with experience in the North American market could help you capitalize on the competition and bring your cybersecurity and local network infrastructure to the next level.
The experts you call upon will have the expertise to handle the IT requirements of your enterprise and will ensure that your services will always be in line with technological advances in your field.
In short, because it's cheaper. Managing an IT department in-house will require a substantial investment and can decrease the productivity of your staff.
By outsourcing your IT needs to a specialized crew, you could eliminate much of the costs you would have to spend on training and salaries. And the company you work with could scale up or down its offerings according to your preferences.
Not least, IT professionals can provide you with ongoing support, which you may need if your company is to reach a higher level.
Do some of your employees work from home? Then the IT firm you collaborate with could implement the necessary software tools to control your services remotely.
Do you need help with office tools such as printers or external storage solutions? Then benefiting from constant support can be important for smoothly running your staff duties.
A firm specialized in managed IT services could optimize your company's internal processes, increasing profitability over time.
How Can IT Experts Provide Hardware Support?
We live in an age of digitization, and many of the services encountered have moved to the cloud. But yet, more than 98% of medium and large IT companies use at least some form of offline storage solution.
The reason? Offline storage can be cheaper in the long run, and the chosen option can be customizable to the needs of your business.
Are you a company working with confidential data? In this case, the IT firm you call could work with your staff to find the best way to build a NAS or DHCP server for your computer needs.
The company you work with may also help you if you want to upgrade your already-used machines.
The IT experts you call could check the comparability of the components you require, handle their assembly, work with vendors to obtain favorable prices for parts bought in bulk and manage the migration of data and software used by your staff from one PC to another.
Not least, using the expertise of specialists has the advantage of obtaining a warranty for the received services. And when we are talking about multiple machines, of which a good part of them operate 24/24, the warranty of components and their installation can be a great advantage.
What Should You Look for in a Professional IT Firm?
For one thing, you will need to seek the services of a team with experience in your field of activity that serves the geographical area in which you are located. It is useless to find a company that is perfect in every respect if it does not offer its services to companies in your city.
And it makes little difference if the business you find benefits from excellent reviews if it has never worked with enterprises in your domain.
However, if the company you found has experience with your field of activity, then a good idea would be to pay attention to the testimonials received from clients.
A reputable company will prominently display customer reviews on its website alongside projects it has worked on. It is important to choose experts who can scale your enterprise to a higher level and guarantee their offerings with warranties.
Not least, you should choose to work with a firm that uses a public relations department. The company that handles your network infrastructure should be open to questions, offer personalized support to your staff, and always be ready to deliver technical training when the situation calls for it.
It Can Be a Fantastic Idea
The American markets are in a broad development process, and the competition between new businesses is becoming more intense every year. Are you the owner of a company in a competitive industry where loyal customers think twice before buying from another vendor?
Then the services you offer will need to be excellent, and this is where partnering with managed IT service providers could be imperative for your success.
The experts you collaborate with could improve your internal infrastructure, manage your IT services, ensure your software programs are up to date, and make regular backups of your client's data to ensure their privacy.
Is it compulsory to call on the professional services of an expert? No, nothing is mandatory in the business world. But using the expertise of specialists could be one of the most inspiring decisions for your enterprise.
By outsourcing your IT requirements to a third party, you could save time, which you can use to innovate in your field, and money, which you can reinvest in other departments of your business that require major investment.
After a certain level, your valuable time would be better spent in the departments of your firm in which you possess expertise, and your IT infrastructure would be ideally left in the hands of more experienced individuals.