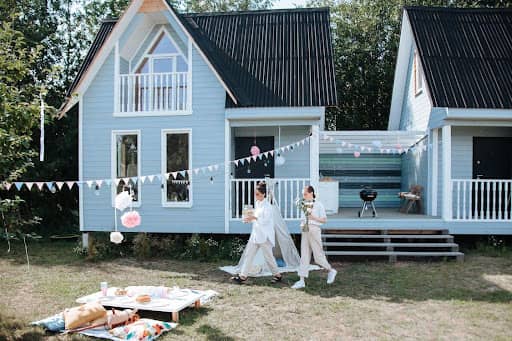 The use of technology is inevitable in property management as much as in any other sector.
People who invest in vacation rental properties beyond geographic borders or multiple places need constant monitoring and management of each property. They can only do so with technology.
The business world, the real estate, and the vacation rental property markets are always evolving. One vacation spot's peak season may differ from another, so you need different marketing strategies for each vacation rental.
Furthermore, customers' needs at different vacation properties will also differ, resulting in different business plans and management strategies for each.
Alternatively, owning and managing a single property also requires technological tools.
Customers expect a high level of professional services at vacation rentals. That means a seamless booking process, easier payment methods, and top-notch services.
Doing all this requires various tools to make your job much easier while improving service levels. Let us look at some of these.
1.    Housekeeping Software
Housekeeping software lets housekeepers manage and schedule their daily tasks, confirm room statuses, and get important information at a glance. They can use the software to inspect all rooms and get a detailed report. For example, they can see how many rooms are clean, dirty, out-of-order, or out-of-service and which rooms need supplies.
It makes managing room service much easier, especially if there are many rooms to cater to during the peak holiday season. You can use an all-in-one property cleaning software with automatic scheduling, insights into unit status, detailed reports, and much more!
You can get real-time housekeeping updates by using the appropriate software and ensuring service quality standards for your clients. The best way to ensure optimum housekeeping services is to ensure that rooms are clean and hygienic at all times. The software shows the percentage of clean and dirty rooms, allowing managers to evaluate their staff's performance and ensure rooms are in optimum condition for guests. 
2.Property Management System
Property Management System (PMS) is an excellent tool for efficiently managing your vacation rental operations. You can book and manage reservations, process invoicing and payment methods, and coordinate guest communication.
It also includes hotel front-desk software that manages digital check-ins and checkouts for streamlined bookings across all platforms. It can help automate administrative tasks by integrating cloud computing and applications.
You use it to access real-time analytics to study customer trends and preferences. You can then use these analytics to design marketing campaigns and generate automated emails and newsletters to send to customers who booked a room.
You can use these emails and newsletters to send customized offerings. It helps clients sign up for services they may require during their stay and optimize their staycation plan.
The data-driven insights and smooth digitized operations ensure service quality and business profitability. It also helps make better decisions for your property. For example, you can optimize prices using analytics to study guest-spending patterns.
Similarly, it is useful in optimizing staff resources and increasing the online visibility of your business.
3. Automated Booking Channel Manager
Owning a vacation rental property means listing it on multiple sites and getting bookings across various platforms.
An automated bookings channel manager helps managers and rental property owners enlist on multiple sites and manage them in one place. It eliminates the problem of double booking or overbooking.
You can also keep your prices, availability, and calendars updated in one place for each listing. It is also a great way to offer special discounts in collaboration with a certain listing or special services on another to boost sales.
It also automates tasks such as booking confirmations and generating digital invoices.
It also contains built-in security features such as data encryption and two-factor verification for safe transactions. Therefore, it is a safe and trusted platform for customers to make reservations and process payments.
Moreover, an automated booking channel manager software generates automated reports on occupancy rates and revenue streams. You can use it to determine the profitability or success of the business.
4.Research and Data Intelligence Tools
The vacation rental industry can become quite competitive. In such a scenario, you need to maintain an edge. You can only do that by gathering market intelligence and datasets.
The research and data intelligence tools let you research market trends, consumer preferences, and competition.
Vacation rental owners and hosts need these datasets to make informed investment decisions and revenue strategies.
Technological dashboards in research and data intelligence tools allow hosts to compare prices, assess market demand, and study the changing trends in the travel landscape.
It also allows vacation rental managers in long-term planning, including expansion decisions, introducing new offerings, and optimizing the customer experience.
Once you enter the travel or hospitality business, you must analyze which direction to take. For example, will a car service to and from the vacation rental be more feasible, expanding it into a resort, or both?
It is one of the crucial decisions you would need to make to offer superior service among the competition and gain more visibility in the market.
Research and data intelligence tools can help you make such decisions by providing valuable data.
5.Insurance and Identity Verification Tools
As a vacation rental manager, you need to be aware of fraudulent activities which can cost your business. They can include fake bookings, credit card fraud, and other cybercriminal activities.
It would help if you had ID verification tools to protect your business and client information.
You can use these to authenticate each booking backed by guest screening solutions. It will detect any suspicious activity while processing and send an alert immediately.
Similarly, the absence of insurance can also cost your business in the case of fire, theft, natural disasters, and last-minute cancellations. Protecting your property by using insurance tools is always a good idea.
It lets you manage and process your insurance documents against your rental or lease agreement and keeps you updated with your insurance policies.
Conclusion
Vacation property management can only be easy with technological tools. The property management tools and software makes administrative tasks a lot easier by automating them, letting you focus on the core business.
You can even manage multiple vacation properties remotely and monitor them regularly. Some tools also allow you to make informed decisions, study the market and integrate the latest trends to offer optimized services.
Other tools and software let you manage your revenues, profits, costs, and maintenance overheads. Together, these tools help ensure the success of your vacation rental.