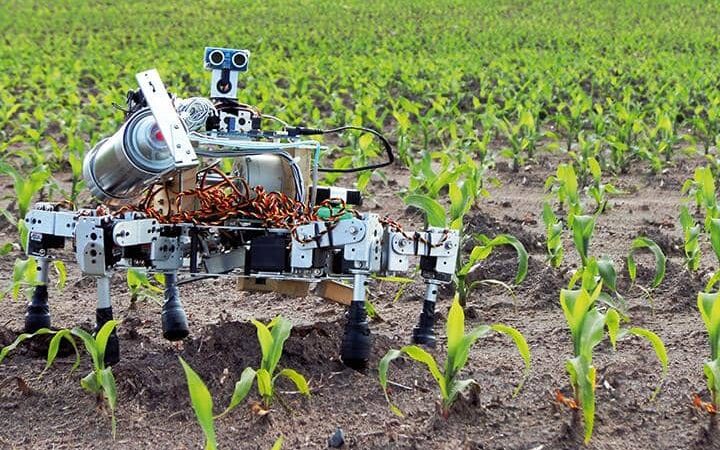 Internet of Things (IoT) technology is gaining huge acceptance in countries across the globe and penetrated almost every aspect of our lives. Be it home automation, health and fitness, or automotive and logistics.
The applications of IoT sensors in agriculture are innumerable and have proven to be extremely beneficial for farmers. The adoption of IoT solutions among farmers is increasing.
As it plays a major role in increasing productivity, mitigating errors, identifying and locating potential contamination of crops or insects, monitoring livestock, and overall maintenance of crops and farms.
Basic Overview Of IoT in agriculture
The introduction of IoT in agriculture has significantly accelerated the utilization of advanced sensors.
These sensors play a vital role in coming up with effective solutions and decision-making as they connect to the cloud through either satellite or cellular networks, providing real-time, accurate data.
The application of IoT in agriculture is expected to surge exponentially in the coming years due to the rise in the global population and the significant surge in the demand for food across the globe.
Thus, IoT would be a breakthrough technology in agriculture to increase the speed of agricultural processes to cater to the growing need for food across the globe.
The implementation of IoT can valuably enhance the quality and quantity of agriculture production.
In addition, an increase in smartphone users and a rise in internet penetration among farmers across the globe are expected to raise the demand for IoT in agriculture.
Moreover, climate change plays a major role in the adoption of IoT in agriculture as severe weather conditions corroborate the deployment of innovative IoT-based technologies to augment agriculture production.
According to the report published by Allied Market Research, the global IoT in agriculture is expected to reach $48,714 million by 2025, growing at a CAGR of 14.7% from 2018 to 2025.
Remarkable IoT in Agriculture Trends
Farmers have witnessed a number of technological breakthroughs and transformations in recent years, and incessantly looking for modern agricultural equipment or solutions to agricultural problems.
Hence, farmers, these days are becoming more technology-driven and industrialized than before. This is mainly due to better control over the process of growing crops and raising livestock.
This results in maximized yield and improved efficiency for crop growth. Thus, numerous players in the market are devising innovative solutions to effectively cater to the needs of farmers.
For instance, Zytel, an innovative technology company that offers a diverse range of IoT solutions to buildings, campuses, stadiums, and cities, introduced a smart agriculture IoT platform to aid agronomists and farmers intake smart crop management decisions.
Site Smart Agriculture runs on the Zyter SmartSpaces™ platform. The data accumulated by the IoT sensors are deciphered with the help of artificial intelligence (AI) technology.
Then, Zyter's solution provides an eclectic virtual view of the farm ecosystem to the farmers and agronomists.
The solutions are given with the maximum emphasis on improving and automating crop management practices for precision agriculture.
In addition, Zytel solutions display important alerts and notifications of soil readings that exceed the conventional range.
Apart from analyzing soil readings, the in-ground sensors monitor the measurement data on solar radiation levels, moisture, and nutrients.
The entire data is available on the Zyter Smart Agriculture mobile app and dashboard. The trend of providing creative solutions to farmers by upcoming start-ups continues to gain momentum in the agriculture sector.
Another precision farming start-up called Fasal launched an innovative product called 'Fasal Kranti' that will essentially help farmers effectively improve crop yield and decline the overall cost of cultivation.
This product is an IoT sensor-based system that assists farmers in making data-driven decisions based on the data provided on disease, irrigation, pest management, and fertigation.
The modern technology is equipped with about 12 impressive sensors that are capable of monitoring micro-climatic factors such as wind speed, solar radiation, rainfall, and wind direction to accumulate a comprehensive overview for proper crop management.
This immaculate product is also capable of monitoring microclimatic factors such as humidity, temperature, leaf wetness, among others.
In addition, Fasal Kranti can monitor vital soil parameters such as soil moisture, soil quality, and soil temperature.
Moreover, this product can be extended to enhance the capability of farm automation by simply integrating with any other conventional agriculture automation system out of the box.
Conclusion
Technology has been instrumental in favoring the global agriculture industry, but it has not been fully prevalent across underdeveloped countries due to the lack of knowledge and awareness among farmers.
But governments of numerous countries are taking considerable initiatives to spread the awareness and importance of the incorporation of IoT in agriculture, industrial internet of things (IIoT), smart agriculture, and others.
Thus, governments have initiated the sector's digital revolution, enabling prominent companies and digital start-ups to transform the industry.
Hence, the adoption of these pertinent innovations propagates sustainable agriculture and makes a positive impact on the UN's Sustainable Development Goals.