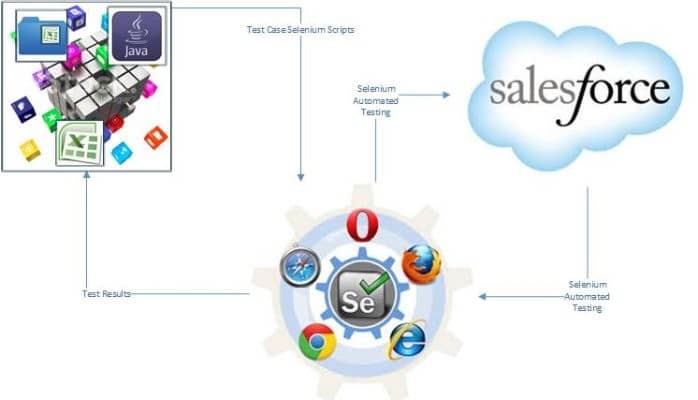 Over the years, Salesforce has evolved from a contact database to a custom application development platform. Salesforce is a very critical application that touches every aspect of your business including CPQ, fulfillment, billing, and more.
As it has already been stated that Salesforce is very critical for your business, it is imperative that it should operate seamlessly to ensure business continuity. For this, you need a robust Salesforce testing strategy.
Furthermore, Salesforce is highly customizable. Whenever enhancements and new features are rolled out, they need to be tested to check existing functionality doesn't get compromised.
Although manual testing for Salesforce is still prevalent, it isn't considered a viable solution.
Some Of The Possible Reasons For This Are Listed Below:
1. Salesforce is a complex application. Manually testing the basic functionality of Salesforce is straightforward, however, testing custom user interfaces can be very time-consuming and difficult.
2. In most cases, Salesforce customers don't have a dedicated team of testers. It means that business users need to perform testing.
However, the challenge in this is that they already have daily chores to perform and their availability for manual testing is a challenge.
3. Salesforce rolls out three seasonal updates. Testing updates thrice a year manually can be very challenging for business users since they are non-technical folks.
4. In case you've performed Classic to Lightning migration, there is a possibility that test scripts created for one version won't work in another version.
5. Salesforce can be integrated with a range of productivity tools and enterprise applications. Manually testing each integration point can be very problematic and requires a lot of effort.
The solution to the above-mentioned problems is test automation. With Salesforce automation tests, you not only can speed up the testing process but also ensure adequate risk coverage.
Some of the benefits include:
You can save time:
When we incorporate automation, it automates some of the repetitive but necessary steps.
It means that human involvement is reduced as some of the necessary steps will get executed by automation tools on behalf of the tester. This not only reduces human error but also speeds up the testing process.
You can save money:
It has already been suggested that business users are involved in testing and they do have other critical chores to perform.
As test automation speeds up the testing process, it allows business users to concentrate on their daily work.
This will save a lot of money for your business. Furthermore, test automation also saves money by preventing bug leakage into production.
Free up business users:
Test automation consumes less time as compared to manual testing. Thus, business users can easily concentrate on more critical jobs.
Ensure business continuity:
By ensuring adequate risk coverage, test automation ensures that business continuity remains intact post enhancements and updates.
Although the benefits of automation are numerous, there is a catch.
1. Salesforce is a highly dynamic application that consists of frames, iframes, and dynamic tables, making it hard to automate. To address this challenge, you need a no-code test automation platform.
With a record and playback engine, business users can easily create automation test scripts that can be used to test Salesforce.
2. Due to its dynamic nature, automation test scripts often get broken. It requires a lot of effort to manually heal test scripts.
To avoid this, select a test automation platform that is metadata driven. Such test automation platforms autonomously heal test scripts without requiring human intervention.
3. As it has already been stated that Salesforce can be integrated with numerous apps, it is challenging to find a platform that supports multiple technologies.
Always opt for a test automation platform that supports multiple platforms to ensure end-to-end coverage.