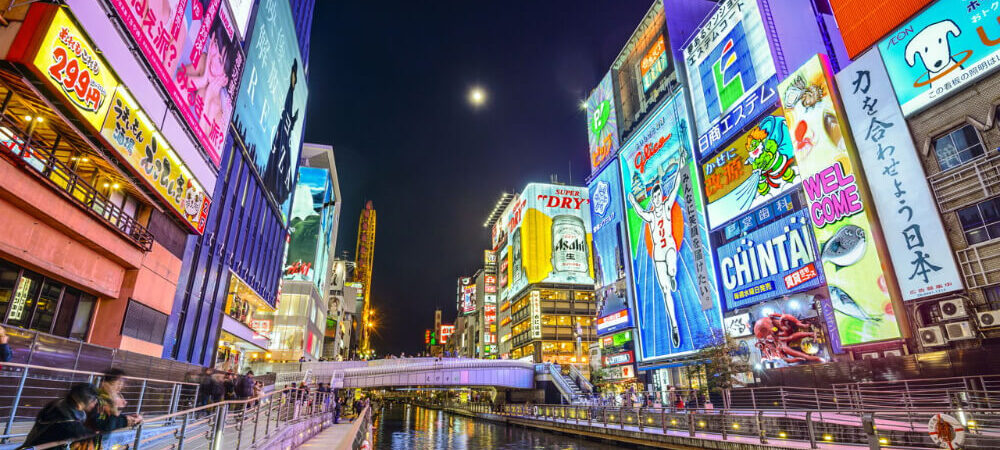 Not all billboards are created equal, nor are all locations across the country. Your billboard advertising cost depends on a lot of variables that can change from place to place.
1. Large Bulletin Billboards
These are what most people think of when they think of a billboard.
Large in size with a static image, they're often seen along highways or within cities where they'll get a lot of exposure. They're usually 14 feet high and 48 feet wide, offering 672 square feet of ad space.
2.Large Digital Bulletin Billboards
Comparable in size and found in similar locations as large bulletins, these are among the most cutting-edge of billboard types.
Digital bulletin billboards are very eye-catching and can feature videos and change based on the time of day. They are on the higher end of price, so a good location is necessary to make them worthwhile.
3.Medium Poster Billboards
These are similar to large bulletin billboards but on a smaller scale. They're usually 10 feet high by 22 feet wide with 220 square feet of ad space. They're best used for targeting residents, with their small size fitting well on local roads.
4.Medium Digital Poster Billboards
Like their analog cousins, these are simply a scaled-down version of a large digital bulletin billboard. Often available as 10 feet high by 25 feet wide, they offer 250 square feet of ad space.
While not every state tracks the same kinds of billboards, here is the general cost of these billboards types by state average:
Alabama
Large Bulletin: $2000
Digital Bulletin: $3000
Medium Poster: $950
Digital Poster: $1450
Arizona
Large Bulletin: $2000
Digital Bulletin: $3000
Medium Poster: $1000
Digital Poster: $1450
Arkansas
Large Bulletin: $1500
Digital Bulletin: $2500
Medium Poster: $950
Digital Poster: $1250
California
Large Bulletin: $2500
Digital Bulletin: $4000
Medium Poster: $950
Digital Poster: $2750
Colorado
Large Bulletin: $2000
Digital Bulletin: $3500
Medium Poster: $1250
Digital Poster: $1750
Connecticut
Large Bulletin: $3200
Digital Bulletin: $4500
Medium Poster: $1250
Digital Poster: $2350
District of Columbia
Billboard Ads: $3000-$45,000
Florida
Large Bulletin: $2700
Digital Bulletin: $3900
Medium Poster: $900
Digital Poster: $1900
Georgia
Large Bulletin: $1500
Digital Bulletin: $2000
Medium Poster: $750
Digital Poster: $950
Hawaii
Mobile Billboard Truck: $3000
Mall: $2000
Parking Garage: $2000
Idaho
Large Bulletin: $1300
Digital Bulletin: $1400
Medium Poster: $600
Digital Poster: $900
Illinois
Large Bulletin: $3500
Digital Bulletin: $4500
Medium Poster: $950
Digital Poster: $1950
Indiana
Large Bulletin: $1900
Digital Bulletin: $2400
Medium Poster: $700
Digital Poster: $900
Iowa
Large Bulletin: $1800
Digital Bulletin: $2100
Medium Poster: $700
Digital Poster: $900
Kansas
Large Bulletin: $1600
Digital Bulletin: $2050
Medium Poster: $700
Digital Poster: $900
Louisiana
Large Bulletin: $1800
Digital Bulletin: $2400
Medium Poster: $700
Digital Poster: $1000
Maryland
Large Bulletin: $2050
Digital Bulletin: $2850
Medium Poster: $800
Digital Poster: $1000
Massachusetts
Large Bulletin: $4000
Digital Bulletin: $5000
Medium Poster: $1450
Digital Poster: $2450
Michigan
Large Bulletin: $2200
Digital Bulletin: $2900
Medium Poster: $925
Digital Poster: $1125
Minnesota
Large Bulletin: $2000
Digital Bulletin: $3000
Medium Poster: $1000
Digital Poster: $1450
Mississippi
Large Bulletin: $1400
Digital Bulletin: $1750
Medium Poster: $600
Digital Poster: $850
Missouri
Large Bulletin: $2300
Digital Bulletin: $2800
Medium Poster: $900
Digital Poster: $1100
Montana
Large Bulletin: $1100
Digital Bulletin: $1250
Medium Poster: $500
Digital Poster: $800
Nebraska
Large Bulletin: $1500
Digital Bulletin: $2500
Medium Poster: $800
Digital Poster: $1200
Nevada
Large Bulletin: $3000
Digital Bulletin: $4000
Medium Poster: $1950
Digital Poster: $2450
New Hampshire
Large Bulletin: $2600
Digital Bulletin: $3900
Medium Poster: $1450
Digital Poster: $2750
New Mexico
Large Bulletin: $1350
Digital Bulletin: $2000
Medium Poster: $600
Digital Poster: $900
New York
Large Bulletin: $8000
Digital Bulletin: $15000
Medium Poster: $3950
Digital Poster: $5450
North Carolina
Large Bulletin: $2000
Digital Bulletin: $3000
Medium Poster: $1000
Digital Poster: $1450
North Dakota
Large Bulletin: $1250
Digital Bulletin: $1300
Medium Poster: $500
Digital Poster: $750
Ohio
Large Bulletin: $2200
Digital Bulletin: $3000
Medium Poster: $800
Digital Poster: $1000
Oklahoma
Large Bulletin: $1800
Digital Bulletin: $2500
Medium Poster: $850
Digital Poster: $1250
Oregon
Large Bulletin: $2400
Digital Bulletin: $3100
Medium Poster: $950
Digital Poster: $1950
Pennsylvania
Large Bulletin: $2575
Digital Bulletin: $3500
Medium Poster: $1000
Digital Poster: $1490
South Carolina
Large Bulletin: $1900
Digital Bulletin: $2250
Medium Poster: $900
Digital Poster: $1200
South Dakota
Large Bulletin: $1150
Digital Bulletin: $1400
Medium Poster: $625
Digital Poster: $910
Texas
Large Bulletin: $2500
Digital Bulletin: $3500
Medium Poster: $900
Digital Poster: $2000
Utah
Large Bulletin: $2075
Digital Bulletin: $3200
Medium Poster: $900
Digital Poster: $1400
Vermont
Billboard Ads: $2200
Washington
Large Bulletin: $2300
Digital Bulletin: $2900
Medium Poster: $700
Digital Poster: $1100
West Virginia
Large Bulletin: $1200
Digital Bulletin: $2000
Medium Poster: $625
Digital Poster: $925
Wisconsin
Large Bulletin: $1900
Digital Bulletin: $2350
Medium Poster: $675
Digital Poster: $925
Wyoming
Large Bulletin: $1275
Digital Bulletin: $1375
Medium Poster: $675
Digital Poster: $975