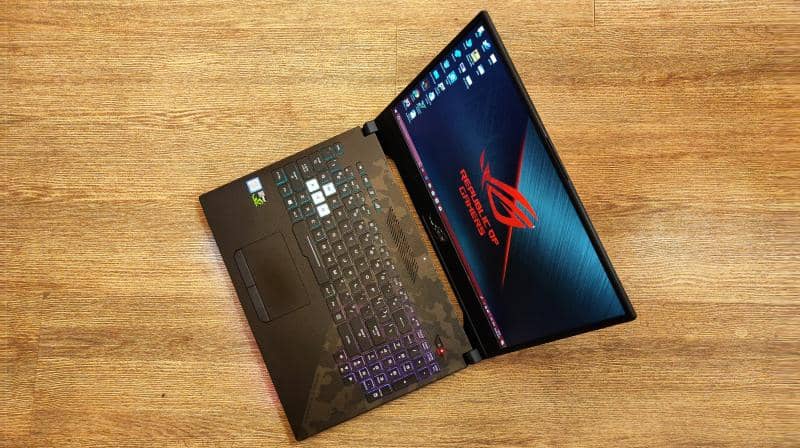 Asus Rog Strix Scar II GL704GM- Does it Offer an Overall Good Experience To Users?
The ASUS ROG Strix SCAR II GL704GM is a high-end gaming laptop that is almost ideal. This laptop has Intel's newest Coffee Lake H CPU architecture.
Additionally, it has the greatest display and a powerful GPU to meet all game requirements. Its battery life isn't the finest, and its camera is strangely placed.
However, it is more streamlined and thinner than traditional gaming monsters. That's in part due to its thin-bezel construction.
The Scar II has exceptionally slim bezels on 3 sides of its display, which allows it to have the smallest possible total footprint for a 17.3-inch gaming laptop. But that doesn't imply that it lacks features.
For example, the LCD display is both IPS and 144Hz refresh capability. Eighth-generation Intel quad-core processor, Nvidia GeForce GTX 1060 graphics, RGB backlit keyboard, a tonne of connectivity, and much more mood lighting than you could shake an LED at are all there.
Before you think about investing in Asus Rog Strix Scar II Gl704GM below are quintessential things you need to know about it.
What Do You Need To Know Asus Rog Strix Scar Ii Gl704gm
Laptop?
A robust design
This Asus laptop model is sturdy and reliable right away. The chassis seems ready to take a hammering and is made of a combination of durable plastic and brushed aluminium.
The quad-zone RGB illuminated keyboard is similar to being made to last. It is highly enjoyable for gaming and sturdy to the touch.
It has a layout similar to a desktop computer, emphasized WASD keys, and a longer press than a typical laptop keyboard.
A backlit LED strip down the front of the chassis and an LED-powered ROG logo on the screen complete the RGB keyboard. They may be customized using the Asus Aura Lighting app and the keyboard.
It comes inclusive of multi-antenna Wi-Fi.
Aside from the ports, the laptop has Wi-Fi 5 802.11ac and Bluetooth 5.0 for wireless access. This laptop is the first in the industry to offer multi-antenna Wi-Fi thanks to this Wi-Fi card.
Specifically, the Wi-Fi combines four antennas using the Range Boost technology for better efficiency and lesser connection dropouts.
It offers a fantastic gaming experience.
Playing games on this laptop offers a great experience.
In specific tests, the system matched or outperformed several laptops with 1070 Max-Q GPUs and easily defeated a few samples with Nvidia 1060 GPUs. The Scar II could be revealed only by upgrading to a full 1080 GPU.
In anecdotal testing, the system played recent games well at full 1080p resolution and high to extreme detail settings, including Dead fire, Pillars of Eternity II, and Vampyr.
However, while a game is being played, the system fans start up and are rather noisy. According to Asus, the cooling system has "anti-dust tunnels" that use airflow to remove dust.
A little bit costly
This laptop is priced at a high premium. The price for this GM model starts at $2000, increasing by roughly $200 for the higher variant with 2060 graphics, which includes a graphic card upgrade.
This laptop is conveniently available from AMAZON with special discounts and through ASUS retail locations.
Offers decent performance
We may assume that since it belongs to ASUS' ROG brand of laptops, it must be a performance-focused laptop.
Although it is the least powerful of its two larger siblings from the STRIX GL704 series, this laptop might still be an excellent choice for gaming on a budget and doing productive work.
With an a144HZ display and an Intel i7 8th generation, strong CPU offers a fluid working experience for all tasks. In addition, it features a 17.3-inch, 100% SRGB, anti-glare, FHD (1920 x 1080), 16:9 display with a 3ms reaction time.
Ports
Several ports on the Strix Scar II meet your gaming and streaming demands. The power jack, a Mini DisplayPort 1.4, an RJ45 port, an HDMI 2.0 port, a headphone jack, and 3 USB 3.1 ports are all located on the left side of the device.
A USB 3.1 Type-C connector, a Kensington lock slogan SD card reader and 2 USB 3.1 ports are on the right.
Audio lacks treble
Although the Strix Scar II's speakers lack treble, they are loud enough to play Bump of Chicken's "Hello, World!" in the room.
Although the vocals at the beginning were strong, one could hardly hear the tambourine until the drums began to play. Except for the vocals and the lead guitar, one could not discern between the recordings throughout the chorus.
You might fear going deaf, but when you play the same song via your own speaker, you can clearly hear every bass guitar note and drum beat.
Average battery life
Its battery did not last long, like that of many gaming laptops. Its battery lasted 3 hours and 37 minutes when continually browsing the web over Wi-Fi at 150 nits of brightness, which is just under the 4:03 average for mainstream gaming laptops.
The Dell G7 15 recorded an astounding 5:39, while the Helios 300 SE only managed to complete the task in 3 hours.
The Bottom Line
A stunning piece of gear, the Asus Rog Strix Scar II Gl704GM houses a magnificent 17-inch, 144Hz display in a relatively slim chassis.
This laptop will easily allow you to play your favourite games at their highest settings thanks to its Nvidia GTX 1060 and 8th Gen Core i7 beneath the hood of a tactile RGB keyboard.
But since the Scar II cannot offer sound and image quality, you must bring your headphones and a dedicated webcam.
The Helios 300 Special Edition, which costs only $1,399 and has the same CPU and GPU but a significantly brighter display, is an option if you're interested in saving money.
However, it won't be easy to find a 17-inch laptop that is as thin and almost weightless.