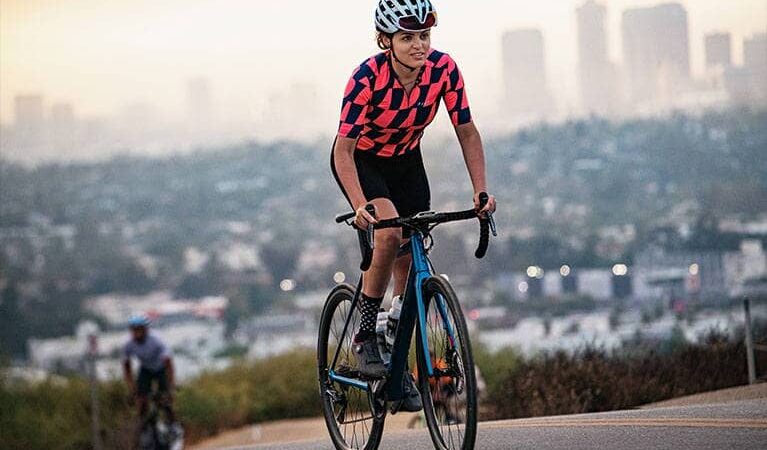 Are you looking for a luxurious and high-performance road bike? Designed for the demanding roads of high-level competitions, Felt's FR FRD Ultimate Dura Ace Di2 road race bike is an ideal choice.
Felt has been a premium brand in the cycling industry for a long time, manufacturing bikes with quality components, modern technology, and refined aerodynamics.
The FR FRD Ultimate takes this to the next level with its lightweight frameset and superior specifications.
This high-end lightweight racing machine was designed with performance and function in mind.
It features cutting-edge components such as Shimano's flagship electronic shifting system – Di2 – combined with Felt's proven FRD layup process and vibration damping technology, resulting in an incredibly smooth ride.
Read on to learn more about how you can get your hands on this ultramodern road bike!
What makes it one of the best road race bikes in the market?
Felt Racing Development is referred to as FRD. There is much more to it than a trendy acronym, and only three aspects can do it justice.
Only the most innovative bicycle framesets that leave our laboratory are given this badge of honour.
It's a statement that we freed our mad scientists and technical geniuses to create something without being constrained by the high cost of materials, the time needed for testing and development, or the limitations of what has gone before.
Engineers at Felt have created carbon fibre bicycles for the past 90 years. They have developed a product using the best materials, cutting-edge manufacturing and construction methods, and testing input from the most dedicated athletes worldwide.
A professional road race bike
The Felt FR FRD Ultimate Dura Ace Di2 road race bike is an impressive piece of machinery, boasting a lightweight and aerodynamic frame and cutting-edge electronic shifting.
It is designed specifically for experienced cyclists or those looking to move up to the next level.
High-end performance
The bike features a full Shimano Dura Ace groupset, including a crankset, brakes, derailleurs and shifters. This provides superior performance and reliability, allowing you to take on any terrain confidently.
The wheels are top-of-the-line, featuring lightweight carbon rims and hubs for maximum speed and efficiency.
Worth the money
It is a fantastic choice if you're searching for a bike with a high-end component set. The bike has hydraulic disc brakes for powerful, smooth stopping on flat or rocky terrain. It has a front chain ring that is 36-52T with a gearing range of 2-11.
This bike provides a gear range regardless of whether you desire to go fast or slow. You may be sure that it will sustain your riding safely and effectively because it is a top-of-the-line model.
It is made of two different kinds of carbon fibre and is intended for performance. One has the maximum modulus of any carbon fibre, Ultra Hybrid Carbon. The resultant rigidity increases pedalling effectiveness.
TeXtreme fibre is an additional form that is stiffer and frequently utilized in the aerospace sector and on Formula One racing vehicles.
Durable and sturdy components
The FR is the best-performing platform for all types of road racing. And the FR FRD, in particular, is the logical outgrowth of the love for performance and its dedication to giving riders the greatest materials and workmanship possible.
Two distinctive types of carbon fibres are used to create the FR FRD. Since UHC Ultimate fibre has one of the highest moduli in the composites industry, it is incredibly stiff to improve handling and pedalling efficiency.
In addition to being used in bicycles, TeXtreme is also used in the aerospace sector and on Formula One race cars to increase a structure's strength while lightening it up compared to other composite materials.
Offers ultimate comfort
The Felt FR FRD Ultimate Dura Ace Di2 road race bike also features an adjustable cockpit, allowing you to customize the fit of your bike for maximum comfort and performance.
The dual-drivetrain allows you to switch between a 1x or 2x setup, depending on your preference.
Who should consider buying this bike?
The Felt FR FRD Ultimate Dura Ace Di2 Road Race Bike is an excellent choice for those looking to take their cycling performance to the next level.
With its state-of-the-art components and features, you can be sure that you will have a bike that will help you reach your peak performance level faster than ever before.
Whether you are a professional racer or a recreational cyclist, this bike will surely provide you with the ultimate performance and reliability.
Drawbacks
It doesn't come inclusive of proprietary parts
The Felt's absence of obvious proprietary components and inclusion of conventional ones, such as a round seat tube that fits in a 27.2mm Seatpost, 31.8mm handlebar, and a 1-1/8-inch steerer tube, add to the bike's simplicity.
As a result, there are more options for aftermarket parts, and the cockpit is simpler to upgrade.
The Bottom Line
Felt is one of the world's leading bike manufacturers, specializing in designing and engineering high-performance road race bikes for championship races and recreational cyclists.
The all new Felt FR FRD Ultimate Dura Ace Di2 Model was designed with precision engineering, providing superior performance and breathtaking aesthetics.
This bike has state-of-the-art features and components, setting it apart from its competitors.
From its ultra-lightweight carbon frame to its Shimano Dura Ace Di2 electronic shifters, everything has been designed to make your rides smoother than ever before – enabling you to reach a peak performance level much faster than regular models on the market.