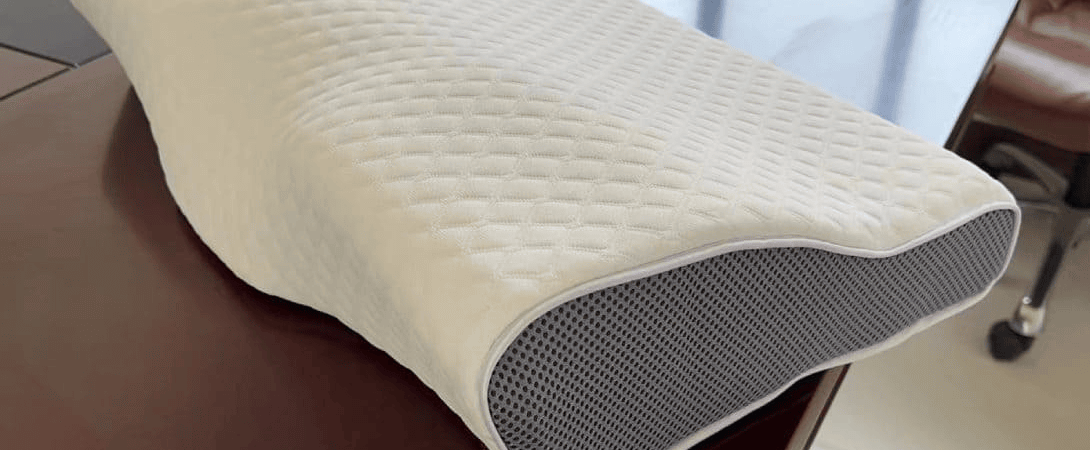 The market offers many pillow options, ranging from various sizes and fillings. Choosing the right one can be a daunting task. But have you heard of the Sutera Pillow? This pillow is purported to provide relief from discomfort and soothe your sleep. But is it worth the investment?
Below, we will provide an unbiased Sutera Pillow review. We will investigate its features, pros, and cons to determine if it lives up to the hype. By the end, you will have all the information you need to decide if the Sutera Pillow is the right fit for you.
Sutera Pillow- The Hidden Truth Behind It
Sutera is a home goods firm that supplies bed and bath products, and this pillow is their signature product. The Dream Deep Pillow, made of firm but breathable memory foam, is intended to make sleeping more comfortable by conforming to your head and enhancing spinal alignment.
For best support and comfort, different sleeping positions frequently necessitate pillows of varying firmness; we offer suggestions based on your preferred resting position. For the abdomen, back, and side sleepers, the Dream Deep Pillow strives to be a pillow that fits all.
Why you will love buying this pillow?
Proper Spine Alignment
The Sutera pillow is designed to provide proper spine alignment when sleeping on your side or back.
The pillow is contoured with a raised middle and slightly lower ends, allowing the head and neck to rest naturally, reducing stress on the spine and promoting better posture. This design is ideal for people who suffer from neck, shoulder, or back pain.
Pressure Relief
It is made from a memory foam material that conforms to the shape of your head and neck, providing support and pressure relief to those areas. This means the pillow will adapt to your body as you move throughout the night, reducing pressure points and minimizing discomfort.
Better Breathing
The pillow's unique design allows for better breathing during sleep. The pillow elevates the head and neck, reducing the likelihood of snoring and allowing air to flow freely through the nasal passages.
This can be especially beneficial for those who struggle with sleep apnea or other respiratory issues.
Cooling Technology
Sleeping hot can be a common problem, particularly during the warmer months. However, the pillow is made with cooling technology and a breathable cover that promotes airflow, keeping you comfortable all night long. This feature will appeal to those who tend to get sweaty while sleeping.
Improved Sleep Quality
Ultimately, the combination of proper spine alignment, pressure relief, better breathing, and cooling technology in the Sutera pillow promotes better sleep quality.
When your body is adequately supported and comfortable, you're more likely to enjoy a restful and rejuvenating sleep, feeling refreshed and energized in the morning.
Key Specifications
Butterfly design
One of the pillow's standout characteristics is its rounded edges, which the manufacturer calls its "butterfly" design. Small pockets of space created by the pillow's notches allow you to cuddle it while you fall asleep without impairing your arms' blood flow.
One of the contoured rests can be used by back sleepers to tuck an arm beneath the pillow, while side sleepers can hug the edges. Additionally, the pillow includes a slight depression in the middle that serves as a headrest.
Cleaning and Maintenance
This pillow has a removable and machine-washable cover, therefore it is easy to keep clean and fresh. The Memory Foam cannot be machine-washed but can be spot-cleaned with a damp cloth. It's important to note that the pillow should be left to air dry before replacing the cover.
Made up of long-lasting foam
Leave flat pillows behind. You won't need to worry about replacing it anytime soon because this high-quality material has held its shape for years.
Real user complaints
May Not Be Suitable for All Sleeping Positions
Although the Sutera Pillow claims to be suitable for all sleeping positions, there may be better fits for some. Some users have reported discomfort or pain when using it, mainly if they are stomach sleepers.
Price
The price point of this pillow can be a significant con for some consumers. With a high-end price tag, it may only be affordable for some. Other options in the market offer similar features at a lower cost, making the Sutera Pillow expensive for some.
Maintenance
It requires special care when it comes to laundering. It is recommended to hand wash and air dry the pillow, which can be time-consuming and inconvenient for some people.
Odor
Some users reported a strong odour when the Sutera Pillow was first opened. Although this is not uncommon for new pillows, it can be a significant con for some consumers who are sensitive to smells.
The Bottom Line
From proper spine alignment to improved breathing, pressure relief, cooling technology, and improved sleep quality, this pillow provides maximum comfort and support for a better night's sleep.
The unique dent in the centre of the pillow and the advanced cooling technology set it apart from standard pillows on the market.
Consider its size, shape, materials, and if it's compatible with your sleeping habits and needs before purchasing. So if you want to upgrade your sleeping experience, the Sutera pillow might be just what you need!