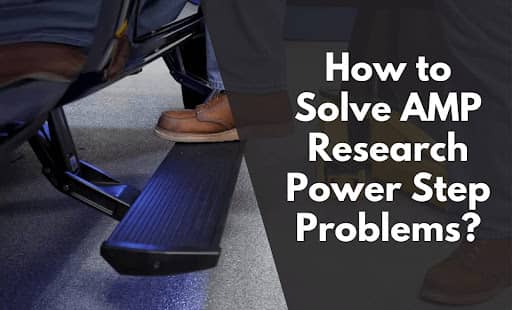 AMP Research is a well-known manufacturer of power steps that add more ease to your daily life. These power steps are highly convenient, and they also offer a combination of extremely useful features.
The best part about AMP Research power steps is that they offer a set of unique functions, unlike all the other traditional running models present in the market.
In simple terms, AMP Research power steps are electrically powered running boards that are fully automatic.
When an individual opens the door, the power steps instantly extend further, enabling the person to climb up easily. When an individual is out of sight, these steps are designed to retract automatically.
This is followed by the door closing. It enhances the appearance and also improves the ground visibility.
Additionally, Amp power steps have a unique feature that boosts their all-weather performance. Along with an Immaculate design, the product also offers commendable reliability.
Regardless of the high-quality design, issues can happen with AMP Research power steps, just like any other electronic appliance.
Thus, it is extremely important to be prepared and understand the measures that can prevent major inconveniences.
In this article, we are going to talk about some handy tips and tricks regarding the AMP Research power steps that will help you troubleshoot the problems and figure out a convenient solution for the same.
Problem 1.-
AMP Research power steps start to make too much noise.
Oftentimes, the AMP Research power steps start to make troublesome noises while in use. Usually, this is a result of excess accumulation of dirt, mud, and even salt.
These elements get stuck inside the mechanism of the running board in case of extreme weather conditions. This results in some unwanted noises.
Solution-
In this situation, manually deploy the running boards. This should be followed by an intense pressure wash.
Flush out the dirt accumulated in the front as well as a back hinge. Keep in mind that motors should not come in contact with water. This can cause serious damage.
Once you are done spraying water, opt for a silicone lubricant to clean the space.
Make sure that you do not apply any type of protestants, silicone, or wax directly on the surface of the steps, as this can resist friction and create slippery surfaces.
Problem 2. –
Sporadic operation and Irregular breaks
This happens when the connector between the wire harness and controller comes in intermittent contact. In most cases, this is the result of improper positioning of terminals and the white rubber connector.
Solution-
Simply check all the wires, one by one, by drawing each one out. If you observe the wire pulling out of the rubber connector, fix it by reinserting it.
Problem 3. –
Steps stop functioning midway.
In some cases, the vehicle's body is not straight. This can eventually confine the power steps.
Solution-
In this situation, you are required to open the vehicle's door and simply insert the steps in a downwards position.
There are two 3/16″ socket head bolts present underneath the stage. This enables an easier and stronger hold on the linkage's degree.
You are supposed to unscrew all the bolts present there. Then, move on to removing the power steps from the link. Just click the bottom of the step, and you will be done with it.
However, keep in mind that a soft face mallet is required to remove it. To align the connections correctly, separate the step from the linkage. Now, all you have to do is detach the socket head bolts that are present in the front or backlink.
The next step is to place the power steps in an upward position. You can re-install it on the linkage and tighten the 3/16″ socket bolts.
This procedure will ensure correct alignment and eliminate the binding. Now, your AMP Research power steps should no longer pause halfway.
Problem 4.-
Incorrect position of steps when the door is shut
At times, the steps deploy, resulting in incorrect positioning. This is due to the shutting doors or even the car's hood.
Furthermore, this problem can be observed in cars that are highly equipped with shock sensor security systems.
Solution-
This is a very common issue. Fortunately, it has a very simple solution. You have to change the settings of the shock sensor. If you reduce the sensitivity, the issue will be resolved.
Problem 5. –
Steps start to function arbitrarily.
This problem arises due to faulty polarity-connected diodes. Moreover, it can also happen if they are reversed, or they have a poor and not secured connection.
Solution-
First and foremost, detect the vehicle's electrical system. Double-check that all the wires are properly connected and also check if you have a strong battery functioning correctly.
Problem 6. –
AMP Research power steps start to shake.
This is a rather simple issue that is not caused due to any internal malfunctions. The main problem might be extremely rough ground.
Solution-
This problem resolves itself as soon as you hit the smooth ground. However, it is advised to check whether your connections are secured or not.
Problem 7. –
You can only plug AMP Research power steps in the OBD2 port.
The AMP Research power steps plug into the OBD2 port. It can cause concerns at times because you cannot plug in any other devices, such as a tuner.
Solution-
To solve this issue, Amp's research came out with a convenient splitter. This enables the user to plug in more than one thing at a time.
So, now you can plug your steps in the OBD2 port along with any other devices as per your requirement.
Final Thoughts
AMP Research power steps are popularly known to play the role of convenient ladders. Oftentimes, the steps can malfunction due to some minor issues.
Therefore, it is important to stay updated and understand the causes beforehand. We suggest you keep your power steps dry and clean at all times. This will help in avoiding slippery surfaces.