With the continuous digital transformation in various industries, new demands such as "real-time", " on-demand" "always-on" and " self-service" etc. are emerging.
The construction of a comprehensive cloud network with DC as the core becomes an important foundation to support the digital transformation of thousand of industries on the network side.
Which also requires the cloud network to be more open, flexible, agile, programmable, visualized, automated, and cost-effective.
However, the traditional network equipment based on the "black box" architecture integrates software and hardware, has a high cost, low utilization rate, lack of agility and flexibility, and a long time for new functions expansion.
It is difficult to adapt to the needs of future cloud network development.
Nowadays, technology such as SDN/NFV has been widely used to satisfy market demand, which also drives opportunities for white-box switches.
But, what is the white box switch and what's the difference between it and the traditional switch, and what are the advantages and challenges of it? Let's reveal it in this article. 
What is a white box switch?
The white box switch (also named white label switch or Whitebox hardware, BritBox switch) is a network switch without a well-known brand name which is assembled from standardized commodity parts.
White box switches may be pre-installed with open-source software, but it's more often sold as bare metal hardware.
White box switches mostly have 3 characters:
Building on commodity hardware
Using ASICs from established vendors
Running an open networking operating system
What's the difference between the "Whitebox switch" and the traditional "black box" switch? 
The traditional "BlackBox" switch architecture is the tight bonding of software and hardware.
ASIC chips and SDKs are provided from chip vendors, device manufacturers perform secondary development on this basis to adapt to their own network operating systems, and various configurations are built into the operating system to realize specific network features.
Since the R&D of hardware and software is done by the device manufacturer, the black box architecture makes the system completely closed.
First of all, this closed BlackBox architecture cannot adapt to the flexibility requirements of rapid development and deployment of new functions.
Even if a centralized controller is provided, it only offers a simple graphical management interface of network maintenance and does not closely integrate with the application and operation requirements in the cloud, which makes operation and maintenance even more complicated.  
Secondly, proprietary networking operating systems can only run on private hardware platforms, users cannot enjoy the cost dividends brought about by standardized open hardware, resulting in failure to reduce TCO.
In SDN mode, SDN controllers and switch hardware & software have formed deeper binding due to the integrated purchase of traditional network equipment software & hardware, which has also resulted in high costs.
In addition, the integration of software and hardware also exposes users to the risk of being locked in by the underlying network provider.
How does Whitebox networking work?
"We have been thinking about how to use open hardware and open software and operating systems to help users solve various problems encountered by the network infrastructure," said Ricardo Chen, who is the CEO of Asterfusion Data technologies which is a white box networking startup company for 5 years.
"The white-box switch architecture adopts an open-source system, using standardized chips, an open operating system, and a diversified application ecosystem, just like the Android platform on the mobile phone has richer and more creative ecological support.
We also hope to make a white box switch product that is as open as the Android platform in order to meet the rigid needs of users to reduce networking costs and seamlessly integrate the network into computing and storage.
To satisfy the new requirements for cloud application innovation, to enhance operation & maintenance efficiency on the open network architecture ."
In the white box networking mode, software and hardware are disaggregated, network hardware is generalized and standardized, and software functions are customized.
Thus a flexible and open operating system is finally realized which enables white box switches to have high performance while allowing users to pick a preferred operating system according to their needs.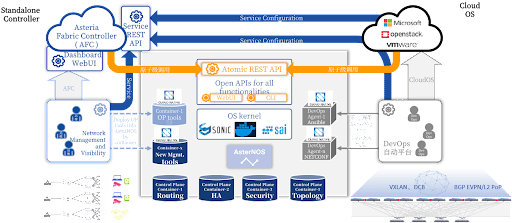 For example, users can buy the Whitebox hardware from the A manufacturer, buy the software from the B manufacturer or customize the open-source software and install it on the A manufacturer's hardware.
It can also shorten the development cycle, accelerate the innovation of software and hardware development, and empower users with more control over their networks.
It provides a viable alternative, and its open platform simplifies network operations and improves performance, while significantly reducing costs.
It is predicted that the future market of white box networking is huge, especially with the emergence of ultra-large-scale cloud service providers.
Those self-built cloud data centers require a large number of white-box switches. Over 20% of network equipment will be white box switches, and this scale will exceed US$5 billion.
The transformation of the ecological chain under the white-box economy
In the past, the traditional switch model was that the chip vendor defined technology, standards, and products and then handed it over to equipment manufacturers, and equipment manufacturers created their software operating system to define the product and then handed it over to end-users. " 
In the past, expanding new functions needed to be rewritten the chip, which was basically a one-way passive acceptance model.
With the increasingly rich application scenarios in the cloud era, the demand for flexibility and programmability is highly increasing.
End users and equipment manufacturers do not satisfy defined functions by chip vendors anymore, but request chip vendors how to design their chips in turn.
In the future, the new chain model should be that end-users, equipment vendors, and chip vendors, service providers, etc., discuss together.
Which types and characteristics of chips are needed in various scenarios so that the end customers' needs and implementation can find feasible solutions in the open-source community.
If the value chain of the white box switch is multi-directional, users' new demand on the network in the future will neither change the chip nor upgrade the operating system but only users develop by themselves or purchase an application from a third party that can run on their switch.
Whitebox switches' challenges
It is worth noting that the development of the white-box switch also faces some challenges.
On one hand, the deployment practice of white-box switches mainly focuses on the cloud data center scenarios.
In terms of large-scale network scenarios such as new metropolitan area networks and 5G telco Cloud, technical research and industrial exploration are still in the initial stage.
On the other hand, since the current market share of white box switches is still very low, white-box switches and traditional switches are usually deployed together in the existing network environment, as a result, it fails to form a complete, end-to-end white-box switch data plane.
Which greatly limits the performance advantages of white-box switches (such as network programmability, flexibility, certainty, etc.) and hinders the exploration of the functions and performance of white-box switches.
But the good news is that It's predicted that by 2023, the open-source network market will reach 1.35 billion U.S. dollars, with a compound annual growth rate of 33% during 2019-2023.
The open-source network operating system (NOS) will become an ideal choice for next-generation network expansion.
Take a broader look at the entire white-box switch market, there are so many start-up companies like Asterfusion, now even traditional switch manufacturers are actively embracing white-box switches.
The future competition is bound to be even more fierce.
Ricardo Chen said that " we believe that the network market is large enough for white boxes and black boxes to coexist, and the market share of white box switches will be larger. " White box switches will occupy a 20% or higher share of the entire network market sooner or later. "
But he also emphasized that all this takes time and close integration with cloud computing.