Along with amazing products, businesses also need perfectly planned websites to impress their customers.
If you want to create one, then first fill your cup with inspiration and creativity. Here we have listed out, 25 perfectly planned web-based e-commerce site designs in 2022-
Here are 25 Perfectly Planned Web-Based E-Commerce Site Designs in 2022: 
1. Space Posters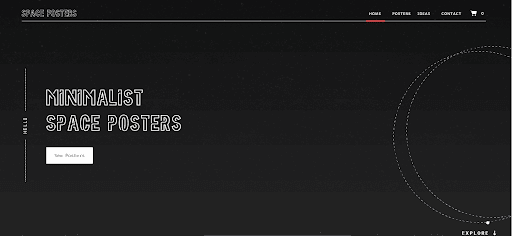 Space posters as the name suggests is an e-commerce website that offers a huge number of cool posters to its customers.
This place is perfect for anyone who feels interested in anything about space and the cosmos. The posters offered here are minimalistic and consistent with the brand style. You might not find color here because all the posters are black or white.
Furthermore, the eCommerce website has a design aesthetic that matches the product.
2. Printshop
Printshop is a company that allows you to create your own custom t-shirts, hoodies, tote bags, etc for any occasion and at quite reasonable costs.
You can lighten up the mood with their famous funny t-shirts. The website design is full of color, easy to understand, and has a user-friendly interface.
3. Desplace Maison
This website sells shoes but some different kinds. You will not find all the familiar designs we see at mainstream shoe stores. These shoes look like they have been brought from the future.
There are plenty of stores that look the same and work the same but Desplace Maison is unique and different from its competition. They have a paper-like texture and a dot of ink which is the cursor.
4. Die Arbeit
Die Arbeit has an amazing and modern website design. It is rich in music and videos which allows the audience to know and hear as much as they want.
The website has an eCommerce section that makes ordering records and t-shirts so easy for their fans. The site is a perfect example to show that an eCommerce website for a band can be simple and minimalist yet interesting.
5. Nalen Ayurveda
Nalen Ayurveda has a fresh and minimalist web design. They have a range of wonderful products which are not found in normal drug stores.
The homepage matches the tone of natural products with an image of ginger root resting in wooden pestle and mortar.
The web design sends a naturalistic, and healing vibe. Even the product descriptions connect with customers personally and on an emotional level.
6. Wannabe Toys
Wannabe toys have all those toys that you can long for. They have action figures, Marvel superheroes, Dragon Ball, Anabelle, etc.
This is a perfect example to say that product pages do not have to be confined by straight lines. You can do that in subtle ways to subvert the grid.
7. Rullus
Rullus has a variety of lightweight iPhone cases and high-quality wallets. The website has some huge and attractive images and animations throughout the page.
Also, they have been successful in capturing curves and eye candy making their products look unique. They use this technique of using super large and clear images to grab the attention of customers and create a fabulous impression.
8. L'intendance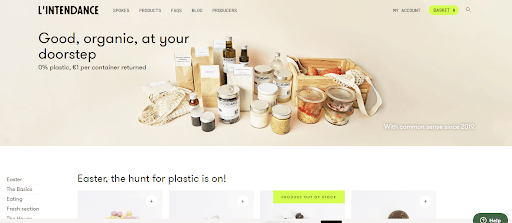 The moment you land on the L'intendance website you will see a table full of granola, tea, orange juice, rustic bread, and other food items and utensils.
Their store sells food storage kits, spices, oils, flours, and other food items. The clear product categories and easy-to-use interface provide a great experience to its users.
9. Cloe Cassandro
Moving further, Cloe Cassandro is famous for its handmade in Bali, beachwear. Same as the beachwear of the brand, gentle flowy and full of negative space, the website is clear and minimalistic.
There is lots of negative space that gives the website a breathing room and is pleasant on the eyes. Also, the details on the buttons are quite minimalistic adding to the same.
10.UDX
UDX is famous for offering fat-tired electric bikes. They have electric bikes that give people the opportunity to hit the dirt with modern technology.
Just like the product, the eCommerce website design is full of motion. They have horizontal shifting text, parallax effects, and more. There is rarely something that does not have some sort of dynamic effect used.
11. The Dockyard Social
The Dockyard Social is famous for selling comfort foods and drinks. The web design shows mouth-watering food and beverages. They also have vouchers and gift cards for their business.
They feature e-commerce functionality which gives them a different touch and also aids in generating more revenue. They have parallax effects, a hip color palette, unique and modern website design.
12. Sobremesa
Sobremessa is famous for its cooking classes with a social experience that connects users with other gourmands. The moving visuals used on the homepage work quite well with the content.
The video consists of women wearing an apron and getting prepared to sign up for their classes. The image of smiling people cooking together is a great tool in coving their target audience.
13. Cafe Two 14
Cafe Two 14 is successful in attracting its customers with delicious eatables like Avocado toast, Coffee, milkshakes, etc.
However, along with this, the eCommerce store which offers coffee beans, t-shirts, option to donate a meal is also commendable. The website designer create a simple layout but showed off the culinary creations and products.
14. Insane Boats
Insane boats is famous for having fast models of boats as well their parts and accessories. The web page uses a yellow and black color scheme to support the bold style.
They have matched the energy of the design with that of their products to make a strong impression.
15. Mystery
Mystery is a platform that takes initiative to help you break through the monotony of your predictable life. It helps in generating new customized adventures for people to experience their cities.
On their website, they sell Mystery gift cards. With just one click you can reach a combination product, checkout page, etc. The process of purchasing these amazing services is easy and quick.
16.Roots Catering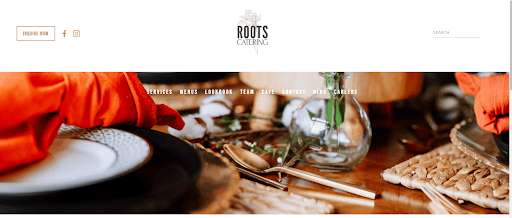 Roots catering is famous for a variety of delicious vegan dishes with meal delivery. On the homepage of the website, there is no lack of vegetables.
You can see fresh vegetables in their meals, and they even have a carrot in their logo. This company is committed to providing the best healthy meals which are free from animal products.
On their website, they have used organic textures, veggies, drop shadows to create a subtle design feel.
17. The Nuff
The Nuff is a book about a unicorn and its journey of self-esteem. This book is created for children who are old enough to understand the message in this story.
The website of this book has similar colors and contents as the book to promote it. There is a section of a sneak peek into the tale, and the 'Buy Now' call to action buttons are easy to spot.
18. RespiTech
Respitech is a company that sells scarves and masks which make you look good and protect you at the same time.
Masks are not that fashionable and stylish items but this brand makes stylish ones. You can even find one that matches your shirt design. The web design is also as stylish as the masks they sell are. It has a good and engaging web design.
19. Friendsday
Friendsday has fashionable products, lively patterns which are made of sustainable organic cotton materials. This is perfect for nature lovers.
They feature models with flowers popping throughout the website. This is done to create a connection to the outside world and showcase brand identity.
20. The Camera Company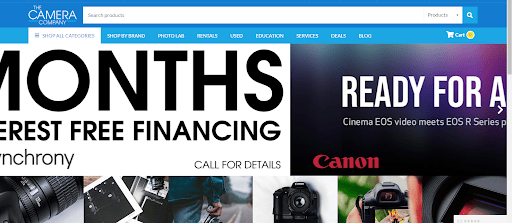 The camera company is a one-stop destination for any camera product that you might need. They have different camera lenses, accessories, etc.
The website consists of well-planned product categories, a good user experience that improves the conversion rates.
21. Feed the Front Line NOLA
Feed the front line Nola is a nonprofit organization that helps medical workers in New Orleans. On the website, they have used nice color contrasts in typography, photos of medical workers they help, etc. The design gives vibes of warmth and a sense of humanity.
22. Eliqs
Eliqs is equipped with the tools to create your own custom beer. The web design uses photos of actual cans they have created in the past.
You can see a pop of color and the quality of the results. Also, they have a sense of fun in their designs to keep customers eyes focussed.
23. Faves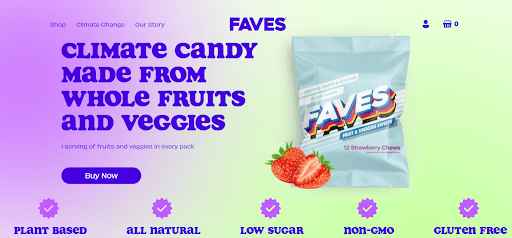 Faves is a brand that makes candies from fruits and vegetables which look so delicious to eat. The homepage of their website is full of colors, big text, and great images of wafers they create.
24. Standstill Tea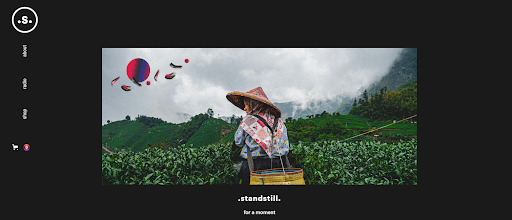 Standstill tea website greets its users with the message to stand still for a moment. This is done so that you take a pause and look at the landscape of tea in the image.
Then, it includes a parallax animation, shapes coming in the top left and telling the story of the tea company.
25. PL Media
PL Media is a company that sells the product of social influencer marketing. It is an agency website that lets you sign up for their services by adding them to a cart.
The main idea of this company is to build new business relationships between influencers and brands.